DRAG BONANZA EXTRAVAGANZA: A Celebration of BIPOC Drag Artistry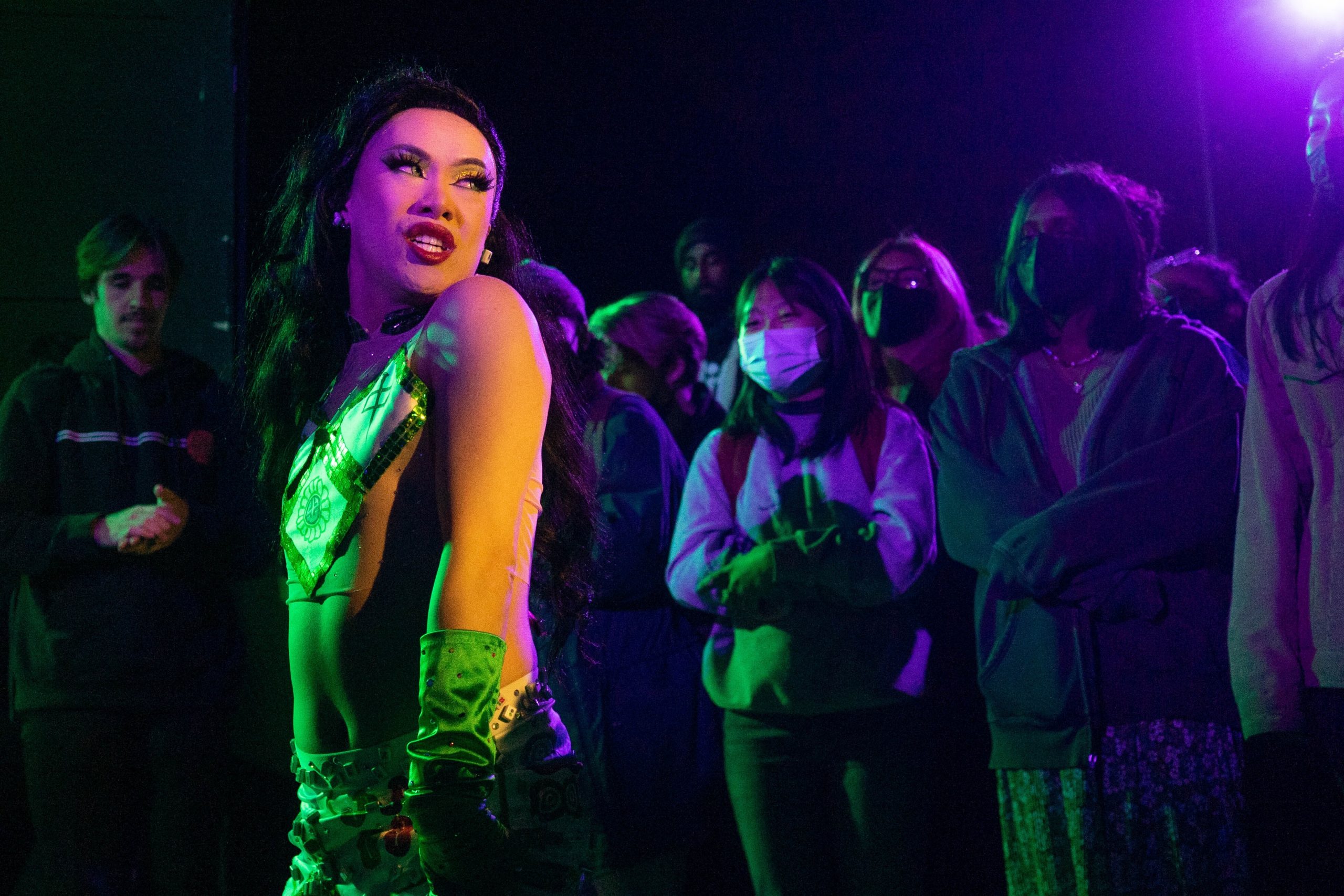 Photo courtesy of Andrew Skrobak. Image Description: Miss Shu Mai is shown performing in front of the audience.
Beauty, artistry, talent, and activism filled the air of Royce Terrace this past quarter with the Student Committee for the Arts' (SCA) first ever Drag Bonanza Extravaganza. Co-programmed with the UCLA Asian Pacific Coalition (UCLA APC), UCLA Sexperts, and the UCLA LGBTQ Campus Resource Center, this was a night of celebration and community for BIPOC drag artistry. 
The mood was set upon arrival with Afro-spiritual musical stylings by DJ Nivedan (@nivedanmusic, he/him) and a patiently empty stage where the performances would unfold. As the audience filled with students, MC and host Evan Sakuma (@evan_sakama, he/they), a second year transfer student, floated onstage in their gorgeously pink and beautifully embellished gluttony-inspired Marie Antionette look, made by fellow student designer and activist Julian Angat (@facesofthebay). The two, introduced at the recent Strike For Our Safety, wanted to make a statement with the show stopping look from Angat's upcoming Seven Deadly Sins collection, further setting the tone for the performances and artistry to come.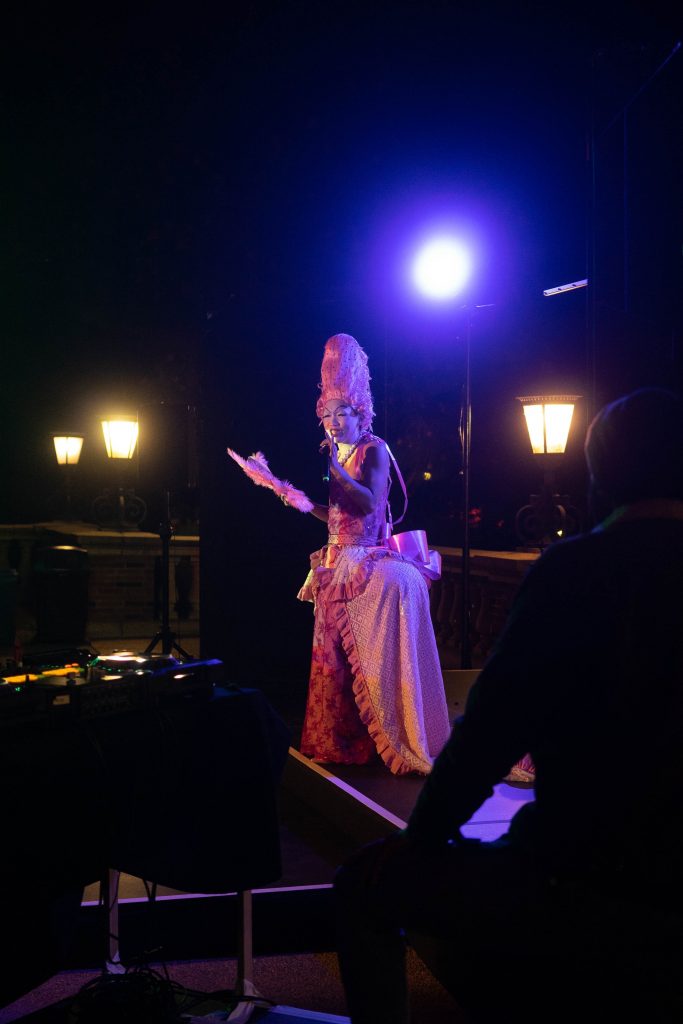 Photo courtesy of Andrew Skrobak. Image Description: MC Evan Sakuma wears a pink Marie-Antoinette inspired wig and outfit. They are speaking into a microphone. They are onstage and surrounded with lights.
Evan Sakuma also performs as Momo Kimono (she/her), their more "sexy, and unhinged" drag alias. But as the MC of the event, Evan thought instead that it would be best to perform as himself, inspired by Momo and fill the space left for them "like water and adapt" to the audience and performers in the spirit of a true drag ball. Evan, also a co-chair for the event and the LGBTQ+ Coordinator for the UCLA APC, wanted more than anything to create a space of uplift and community for other queer BIPOC students and performers. To set intentions for the space, Evan began with a grounding group breath, asking everyone to notice their presence, breathe in, and meditate.
The first performer of the night, Ate Luzviminda (@ateluzviminda, she/her) model-walked onto the stage in her full nun costume and hot pink, thigh-high pumps. Wow, how all of us "raised Catholic" folks wish the nuns looked like her! After giving Catholic realness, Ate Luz finished off her performance with a sickening outfit-change, throwing the colonizer's costume to the side and giving the audience a fierce dance number in her newly revealed bodysuit. Out of drag, Angel Tolentino (they/them) studies nursing at UCLA and hopes that their performance can be a form of retribution to poke fun at the religion harmfully forced on so many. Ate Luz, we worship you!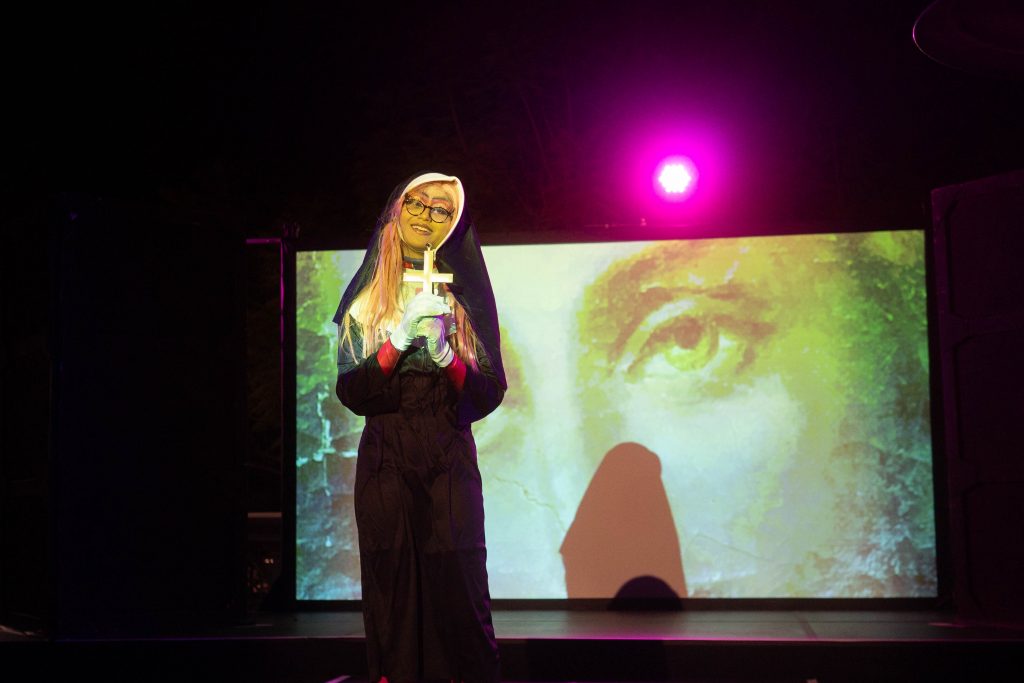 Photo courtesy of Andrew Skrobak. Image description: Ate Luzviminda wears a nun-inspired outfit and holds a cross. She is standing in front of a projected art piece.
The next performer, Vanilla Bean (@thekweenvanillabean, they/she), a third year geography major and drag artist, performed a masterfully sung and spoken set about the time they fell for a stri…strrr…strai—ugh, it's even hard to type—a straight man! She took the audience on her musical journey with her gloriously long legs and hairography to the destination of self love and acceptance, a destination that transcends the toxic binds of heteronormativity. This was Zev Marx-Kahn's (he/him) first time ever performing as Vanilla Bean. Hoping to spread "levity, light, and humor," Zev knows that these experiences as a queer person can be quite painful, but also believes the joy and humor in them should be celebrated as well. Queen Vanilla Bean, we celebrate you!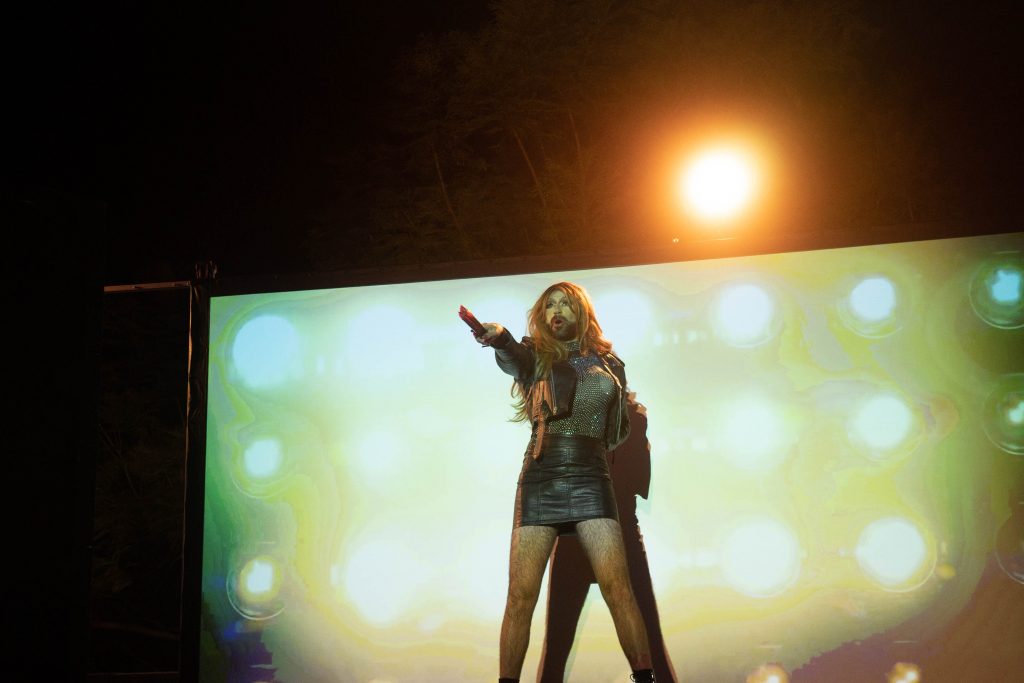 Photo courtesy of Andrew Skrobak. Image Description: Vanilla Bean stands in front of a bright screen. She is reaching towards the audience. 
After the student performances, Evan, floating beautifully back onstage, introduced the next performer, DJ River Moon (@saintdeepthroat, she/her) who has worked with the likes of Azealia Banks, Arca, Steve Lacy, Shygirl, Ms Boogie, LSDXOXO, and Byrell The Great, among many others. The ethereal visuals to accompany the angelic DJ were made by artist, model, and UCLA student Maxwell Kazuo (@kazuomaxwell, they/them) who also helped bring DJ River Moon to UCLA for her very first Los Angeles performance! Students and performers alike flooded the empty stage as they cheered and danced for the incomparable River Moon. Roma Edwards (@roma.soep.edwards, she/her), co-director of the SCA and co-chair of the event, knew when she saw the student audience dancing on stage that the event was exactly what her and other committee members had hoped: a night of community joy, uplift, and support for queer BIPOC safe spaces. 
Following River Moon came the first professional drag artist of the night, Ice Cold Koke (@icecoldkoke, she/they), the "loud, blonde, it-girl of downtown LA!". Perfectly choreographed and lip-synced, Ice Cold Koke performed Madonna's full 2012 Super Bowl Half-Time Show, showing the audience what it means to really strike a pose and L-U-V Madonna! Koke performs not only to entertain and "[bend] the lines of gender expression," but to "fight racism, support transgender safety, and advocate for HIV Prevention." Life may be a mystery, but with Ice Cold Koke, it feels like home.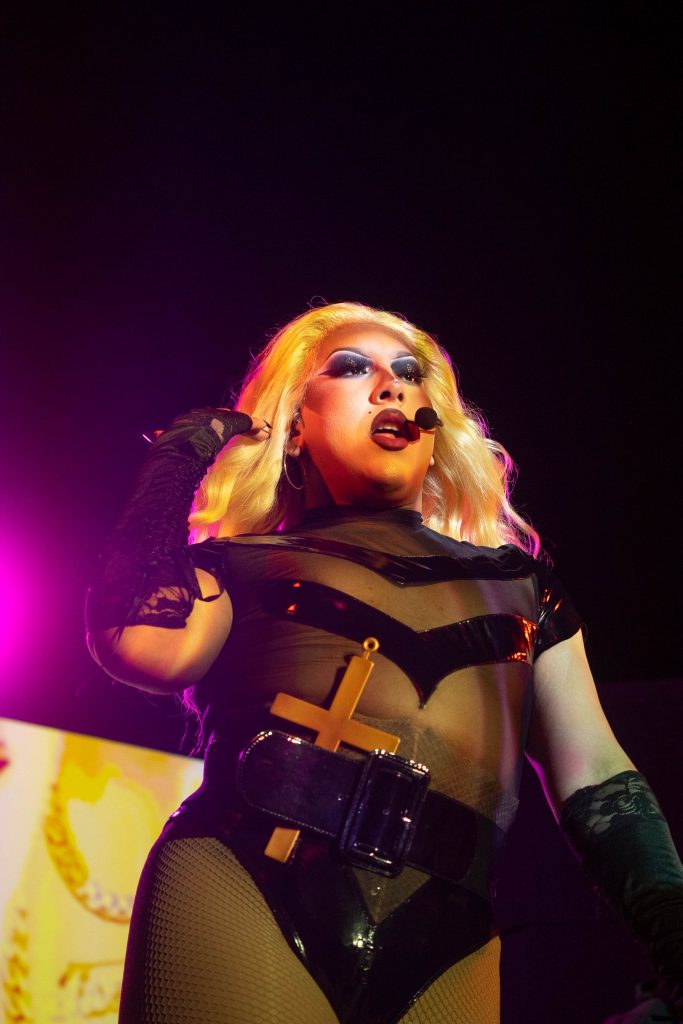 Photo courtesy of Andrew Skrobak. Image description: A photo of Ice Cold Koke on stage. She wears a blonde wig and has a wooden cross in her mesh and leather bodysuit.
The next performer, Bibi Discoteca (@bibidiscoteca, she/her), sauntered onstage in a deliciously silky and red robe on top of a fully gemmed two piece that perfectly framed her tattoos. Performing in front of video montages of cityscapes, blooming roses, discoballs, and moon rises to songs such as "Blue Light" by Kelela, "Costumbres" by Selena, and "Good Days" by SZA, Bibi Discoteca had the audience hypnotized and enamored. A performer of almost seven years, Bibi thanked her ancestors for the wisdom and traditions they have afforded her, and she further reflected on the safe, "meditative" and "therapeutic" spaces drag performance has created for her and allowed her to share.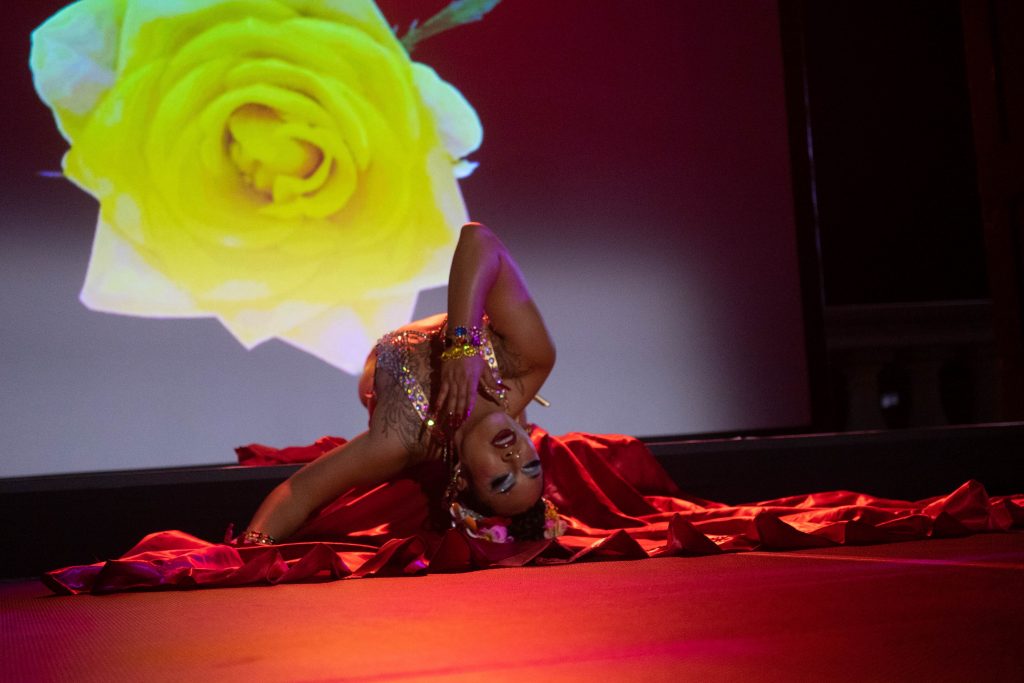 Photo courtesy of Andrew Skrobak. Image description: Bibi Discoteca performs in front of a projected image of a yellow flower. She is bent over upside down, and is surrounded with her red robe. 
Miss Shu Mai (@missshumai, she/her), the second-to-last drag artist and UCLA alumni, taught the audience in a hybrid comedy, lipsync, and choreographed dance number about a game close to her heart (and literally woven into the fabric of her costume): mahjong! She walked — more like danced — everyone through the varying steps, pieces, and proper pronunciations of mahjong, using perfectly in-sync back up dancers and a new lip sync song each step of the way to assist in her instructions. With Bibi Discoteca, Miss Shumai hosts "L.A. 's first monthly Asian/Pacific Islander drag show Send Noodz" (@sendnoodzparty), and uses her performances to fuse humor, dance, and the celebration of Asian American experiences.
The final performer of the night, King Lotus Boy (@kinglotusboy, ze/zir/he/him/they/them & please alternate), took the audience on an internal journey of discovery, rage, compassion, learning, and unlearning. Joined by Lotus Root, "a manifestation of [their] internal rage," and Lotus Bloom, a "manifestation of [zirs] internal compassion," King Lotus Boy sang and spoke about understanding himself and having to educate others on the intersections between their gender identity, cultural identity, disability, and trauma. A two part performance with costume changes and reveals, King Lotus Boy ended zirs performance by handing out roses to members of the audience and leaving everyone cheering with reverence, love, and awe for all that King Lotus Boy is and represents.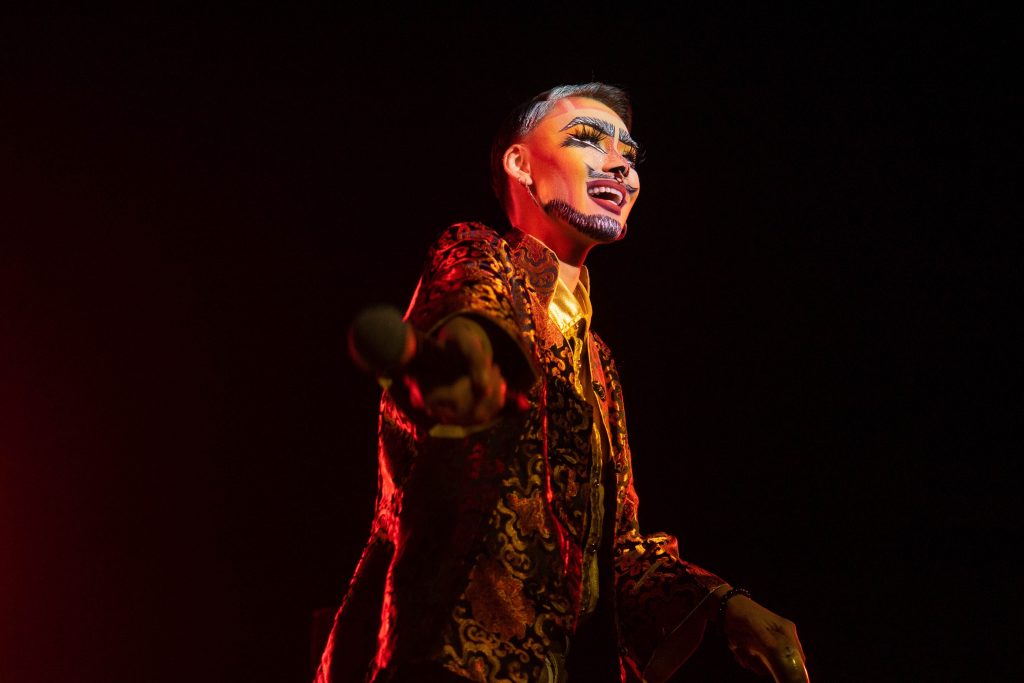 Photo courtesy of Andrew Skrobak. Image description: King Lotus Boy standing on a black stage. They are smiling out towards the audience and pointing a microphone towards the camera. 
After the bows, thank you's, and concluding dance, Evan noticed a student still in the venue as performers and organizers were cleaning up and taking photos. She approached Evan and said, "I don't want to take too much of your time, but this is one of the first ever events that I was able to go to that I was able to see people and performers that looked like me. Seeing queerness so unapologetically on stage made me feel really comfortable and loved." Both Roma and Evan agreed that the student's reflection was "everything they could have wanted for this event" and everything they could have hoped in creating this safe space of creativity, self-expression, and celebration not normally afforded to to queer BIPOC communities.
To Evan, "drag is a form of survival" and a "way to feel connected" to an extensive community that accepts you "for being uniquely yourself." Having events such as the Drag Bonanza Extravaganza allows students to find community, safety, and spaces where they can be completely and uniquely themselves. Audience members, performers, and programmers agreed that these specifically catered events make a difference in students' lives, performers lives, and their communities' well being. Roma hopes to have more events in the future like this one that celebrate queer and BIPOC joy while uniting a community that backs social justice and change.
To support UCLA's drag student community and local drag artists in Los Angeles, follow the artists on their social media, attend their events, and tip when you can afford to! Both Evan and Roma Edwards further urge students to advocate and organize for these kinds of events in order to access the funding UCLA has to back them and to continue to celebrate BIPOC and queer artistry on campus.