Sexual Assault Awareness Month at UCLA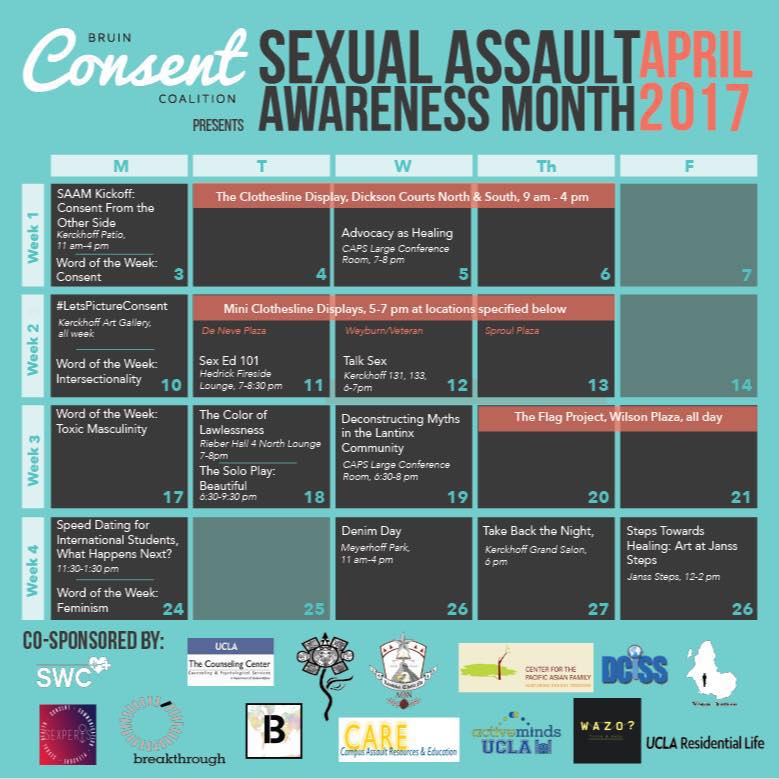 Image courtesy of the Bruin Consent Coalition
Beginning on April 3, Bruin Consent Coalition (BCC) started hosting a number of events for their Sexual Assault Awareness Month. This month long event aims to educate, as well as spark conversations and support all survivors in reclaiming their bodies and lives after their assaults.
Each week starts with a "Word of the Week," in which BCC posts and defines a word related to sexual assault awareness each week around campus to educate students. The first "Word of the Week" was Consent. This week featured the Clothesline Project, which will be back for the coming week, as well as "Advocacy as Healing," a self care and discussion based event that spoke on the importance of advocacy for victims' healing, as well as the potential triggers and discomfort that can arise when advocating for oneself.
The second week features such events as "Sex Ed 101," and "Talk Sex", both geared at educating our campus about safe sex in addition to fostering comfortable and genuine conversations about sex.
Week 3 will start with "The Color of Lawlessness" in which BCC and The Afrikan Diaspora Community will discuss ways in which issues of sexual violence, anti-Blackness, and constructs of masculinity intersect with and affect the African American community. "Deconstructing Myths in the Latinx Community" will explore ways in which gender-based violence and assault affect the Latinx community, guided by BCC, Hermanas Unidas, and Lambda Theta Nu. The third week will also feature "The Flag Project," which features different color flags to represent the number of students who will be affected by sexual assault just in their time at UCLA.
Week Four will kick off with "Speed Dating for International Students, What Happens Next?" in which international students can be educated on their rights in the US, consent, and victim blaming. There will also be a discussion of the myths and realities of dating in the US. This week will also showcase "Denim Day" and "Take Back the Night." "Denim Day" honors the 1990 case by the Italian Supreme Court which ruled that a woman wearing jeans could not have been sexually assaulted, as they were too tight to take off. Denim jeans will be laid out Meyerhoff Park to raise awareness. "Take Back the Night" allows sexual assault survivors to come forward and tell their stories. Lastly, there will be a "Steps Toward Healing: Art at Janss Steps" in which attendees can participate in group art or individual projects in a relaxed setting for healing.
The variety and breadth of the coming month demonstrate the nuances of supporting survivors, as well as educating the general public in order to create a safer campus and foster safer relationships. To learn more about Sexual Assault Awareness Month, including events, dates, and their location, check out the Facebook page!