UCLA Homelessness Awareness Fair Provides Resources For Students Facing Food Insecurity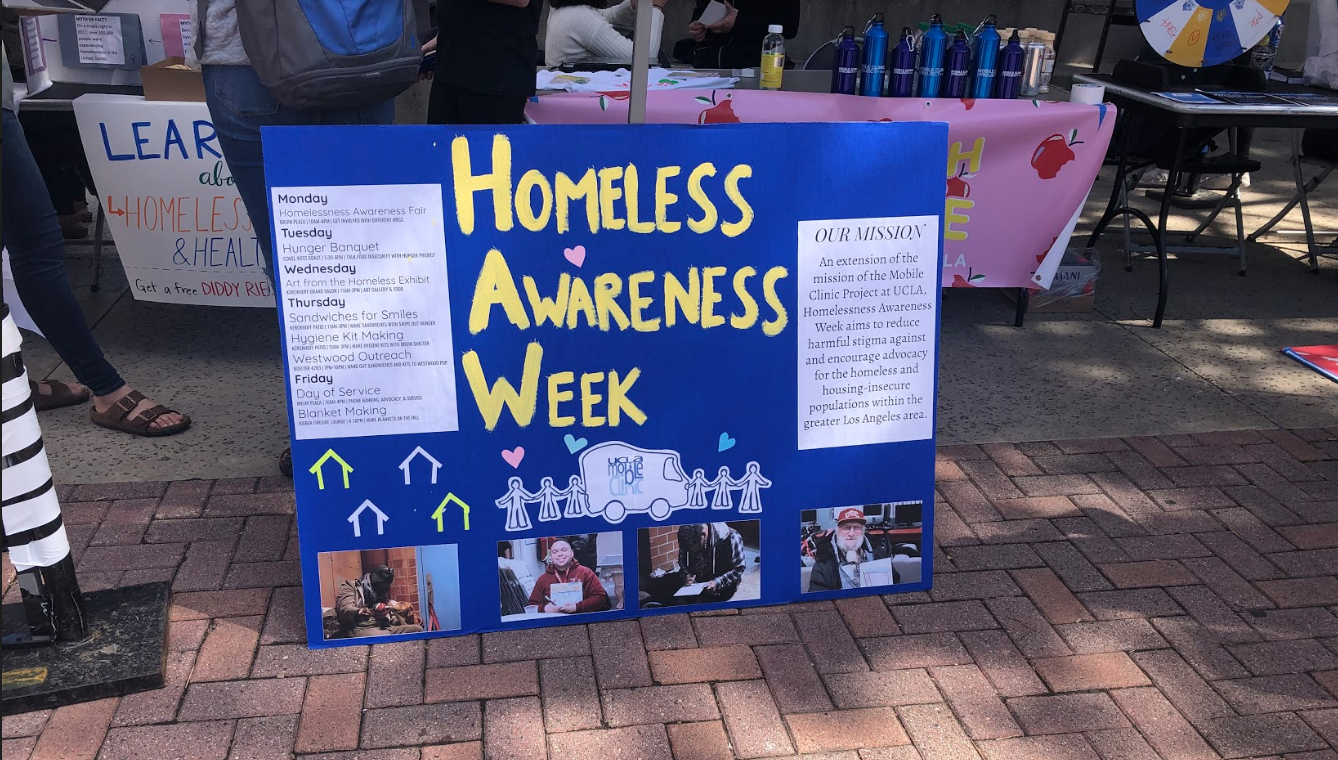 Photo by Natasha Cocke
On Monday, March 4, UCLA's Homelessness Awareness Week kicked off with its Homelessness Awareness Fair. This informational fair was the first event of the week and marks the beginning of UCLA's fifth Homeless Awareness Week. The week is filled with events meant to call attention to issues of food insecurity and homelessness facing the student population and provide as many resources possible to the UCLA community.

For fourth-year student Jessica Yen, The Homelessness Awareness Fair is an important way for students to get informed. "The goal of the event is to raise awareness of the issues surrounding homelessness," says Yen, "this week is a call to action to help address the problem."

Yen acts as a representative for The Hunger Project, a club that works with various nonprofits like People Assisting the Homeless (PATH), Monday Night Mission, and The Shower of Hope and works with these nonprofits to provide food, hygiene kits, art workshops, showers, and support to the homeless. The Hunger Project also participates in the Bruin Dine project, which takes leftover food from the dining halls and serves it in De Neve B101A every Thursday from 9 p.m. – 10:30 p.m. The event is open to the entire UCLA community and is a collaboration with UCLA Dining.

Other clubs presented at the Homelessness Awareness Fair include Bruin Shelter, Swipe Out Hunger, CalFresh Initiative, The Mobile Clinic Project, Good Clothes for Good People, and The National Residence Hall Honorary. Each club has its own methods of tackling issues of food insecurity and homelessness.

Swipe Out Hunger takes meal plan swipes donated by students with premium meal plans and converts them into meal vouchers for students dealing with food insecurity.

The Mobile Clinic stocks and distributes essential medications and medical care to those without healthcare in Hollywood and Santa Monica.

Good Clothes for Good People redistributes gently used clothes and hygienic products to students in need at UCLA.

The CalFresh Initiative assists students in applying for financial aid that would allow them to receive up to $194 per month for groceries.

Bruin Shelter volunteers run a shelter for homeless UCLA students and provide fresh, cooked meals and supplies.

Although each organization has a different focus, these groups frequently collaborate on projects like Bruin Dine and Homelessness Awareness each year to expand the scope of their outreach. These organizations are just some of the resources that students facing food insecurity or homelessness can access during their time at UCLA.

Throughout this week, there were several more events that students participated in to learn more about issues of homelessness and food insecurity facing the UCLA population. On Wednesday, March 6, the organizations hosted an art exhibit in Kerckhoff Grand Salon, titled "Art From the Homeless." On Thursday, March 7, students participated in an outreach program, making sandwiches and hygiene kits and then delivering those resources to homeless individuals in Westwood. The week concluded on Friday when students made blankets to donate to those in need.

When asked about what students should take away from the Homelessness Awareness Fair, Alicia Kwan, a third-year volunteer with Swipe Out Hunger says, "Students need to understand that food insecurity is a spectrum. The goal of this resource fair is to provide information about food insecurity, ranging from homelessness to the ability to buy groceries as well as the nutritional levels of UCLA students' food."