Feminist Theorist Thursdays: Chimamanda Ngozi Adichie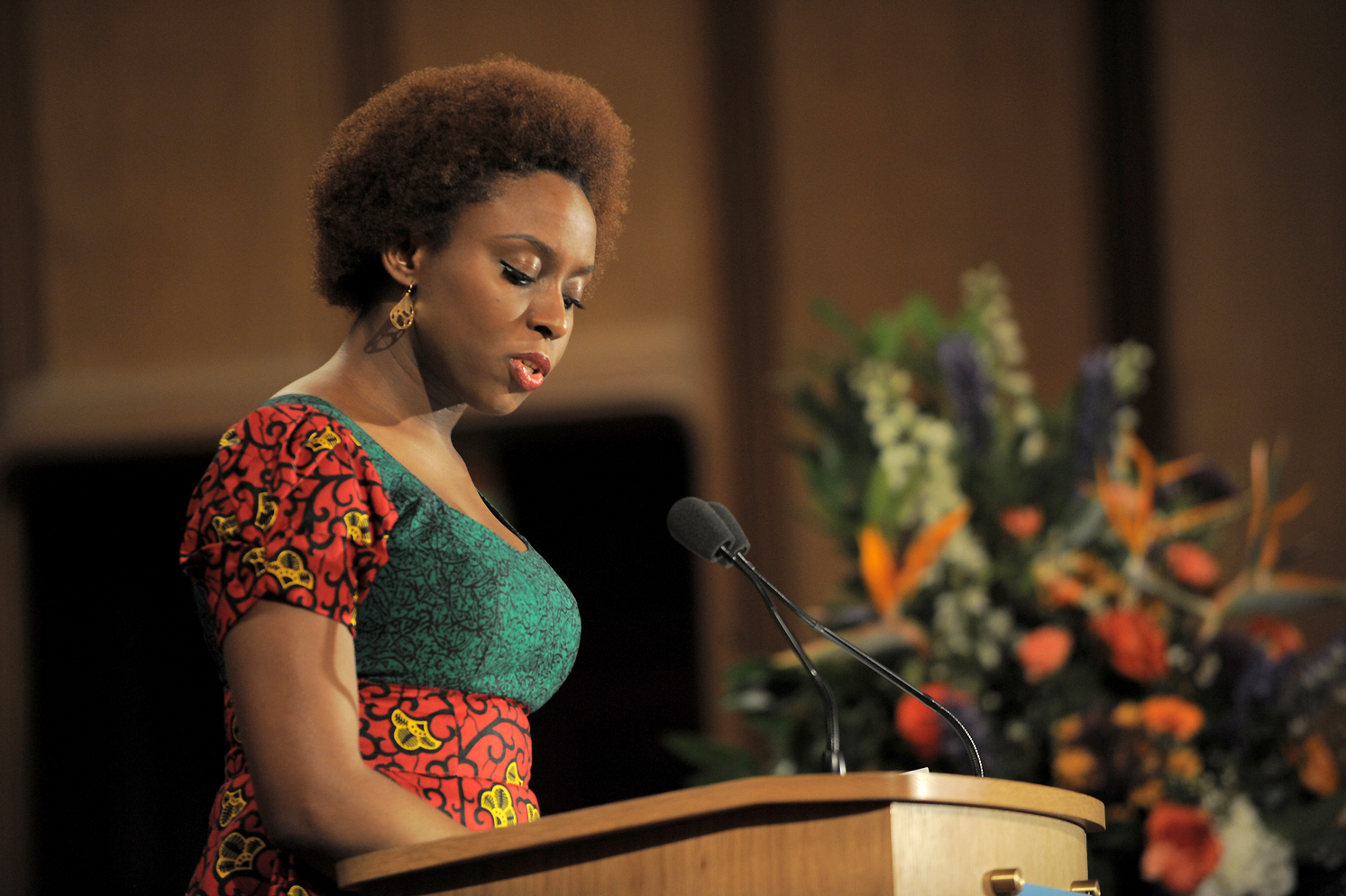 Image by Commonwealth Lecture 2012 via Flickr / CC BY 2.0
Chimamanda Ngozie Adichie has much more to offer than the brief definition of feminism Beyoncé sampled on her track "****Flawless."
Adichie, a Nigerian novelist, is one of the latest women to join the lineage of iconic feminist writers like Maya Angelou, Adrienne Rich and Toni Morrison in their literary portrayal of women's voices. Adichie's fiction and poetry are largely inspired by her experience as a Nigerian woman and an immigrant to the United States, an experience that poses complex questions about her identity.
Adichie left her hometown of Nsukka, Nigeria at the age of 19 to pursue degrees in communications and political science at Drexel University in Philadelphia. She later earned her MFA in creative writing from Johns Hopkins University and her MA in African studies from Yale.
Adichie's literary career began to flourish in 2003 with the publication of her first book, "Purple Hibiscus," which follows a teenage girl growing up in postcolonial Nigeria with an abusive father. Her next novel, "Half of a Yellow Sun," tells a similar story of a fragmented Nigeria by documenting the Biafran War through the eyes of five different people. Her most recent novel, "Americanah," is a semi-autobiographical meditation on race, immigration, and identity in contemporary Euro-America.
When Ms. Magazine asked Adichie if she thinks of herself as a feminist writer, she said, "I think of myself as a storyteller, but I would not mind at all if someone were to think of me as a feminist writer…I'm very feminist in the way I look at the world, and that worldview must somehow be part of my work."
It is in Adichie's two widely viewed TED talks, more than her fiction, that her feminist worldview is best articulated. In "The Danger of a Single Story," Adichie recalls how in her childhood she was exposed only to British and American books. Such narrow and flawed representations of class, gender, and ethnicity in literature prevented Adichie from self-actualization as a writer.
"Things changed when I discovered African books," she said. "I realized that people like me, girls with skin the color of chocolate, whose kinky hair could not form ponytails, could also exist in literature."
"We Should All Be Feminists" is Adichie's simple, unadorned case for the rationality of feminism. Adichie's TED talk focuses mostly on the social construction of gender and the harm women may suffer if confined to their biology. She laments the ideas that women should aspire to marriage or that female success poses a threat to men, and states she is done apologizing for her femininity. Throughout, she reminds the audience that her criticisms apply to both Euro-American and Nigerian gender norms.
Part of "We Should All Be Feminists" is excerpted in Beyoncé's "****Flawless," but Adichie said in an interview she does not personally agree with Beyoncé's brand of feminism.
"[Beyonce's] type of feminism is not mine, as it is the kind that…gives quite a lot of space to the necessity of men. I think men are lovely, but I don't think that women should relate everything they do to men: did he hurt me, do I forgive him, did he put a ring on my finger?" Adichie said.
Adichie was thrust into the spotlight once again in March, when she made what many felt were transphobic remarks on Britain's Channel 4 News. Asked whether she thought transgender women were real women, Adichie replied, "When people talk about, you know, 'Are trans women women?,' my feeling is trans women are trans women." She elaborated that if a trans woman grew up with the privilege of a male body, her experience of womanhood is qualitatively different from a cisgender woman's — introducing the possibility that Adichie's feminism is one for cisgender women only.
The idea that trans women are not "real women" is one that has historically pervaded even feminist spaces; the term "TERF" (trans exclusionary radical feminist) refers to the significant number of self-identified feminists who refuse to stand in solidarity with trans folks. Transphobia in the feminist movement contributes to the persistent marginalization of trans people and denial of their rights. Adichie, a self-proclaimed LGBT+ activist, reiterated in a public statement that trans women's experience of womanhood is different from that of cisgender women, and did not mean to imply that a  trans woman is any less of a woman. Many felt Adichie's statement was an insufficient non-apology for her alienation of trans women, due to her prescription to the idea that trans women must go through transition to be seen as women.
Adichie's public remarks on feminism might lack some nuance, but her rational worldview and popular fiction may be a valuable entry point for those unacquainted with more complex forms of feminism, particularly intersectional feminism. Either way, Adichie's portraits of Nigerian women with grit and self-awareness will likely find themselves a place in the canon of feminist literature for years to come.