A Q&A with Claudia Boleyn: On Feminism, Mental Illness, and Anne Boleyn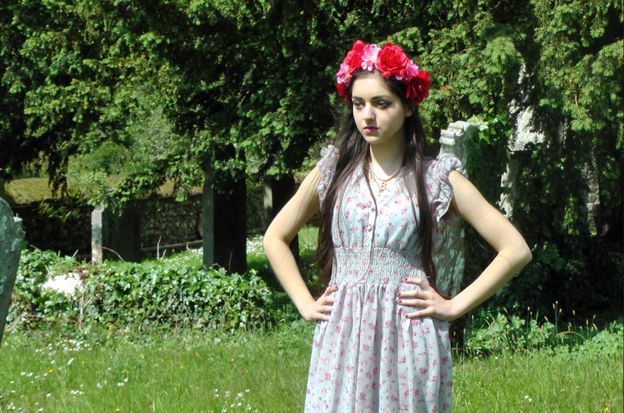 Claudia Boleyn is a half-Indian, half-English musician, YouTuber, and feminist. Besides reviewing TV shows and working on some amazing music, Claudia discusses issues such as feminism, mental illness, and bi-erasure (among other things) on both her YouTube channel and her tumblr. Currently, Claudia is working on her first album, and was kind enough to answer a few questions from FEM.
Q: How did you get started on YouTube?
A: I was this incredibly depressed teenager that couldn't eat, barely slept, and couldn't leave her house. Contrarily I was also someone who enjoyed public speaking and being in front of an audience or a camera. It was my Dad that really pushed and inspired me with it. I suppose it was a way for me to let out some of my emotions and interact a bit more with the outside world, because after my breakdown I sort of shut down. At that time I was having panic attacks every time I left my house, so socializing was so tough. Having a YouTube channel let me be myself again, and also reminded me of who I was. When you're depressed you can lose your sense of self, but with YouTube it came flooding back. I wore what I wanted, said what I wanted, sang what I wanted. It made me feel good about myself again. My confidence is absolutely back now, so it definitely worked!
Q: What got you interested in feminism?
A: We did a bit of feminism in Sixth Form*. One of my English Lit teachers gave us some extracts from Caitlin Moran's How To Be A Woman. To be honest, at first I was pretty resistant to it. I had this vague sense that admitting there were problems would make me weak. I was concerned that I'd be seen as one of those 'crazy feminist killjoys' that you hear about so often. (I despise the use of crazy as an insult, being mentally ill myself, but at the time I certainly was worried about gaining that label, especially since I was already seen as a bit odd because of my anxiety and panic attacks).
Gradually, however, I began to look at events in the lives of myself and my female friends and think, hang on a minute, things weren't right there, and they still aren't. Also having a little brother who is close-ish in age to me alerted me to the differences in which boys and girls are brought up.
Now I don't see Caitlin Moran as a particular feminist heroine of mine. There are parts of How to Be A Woman I heartily agree with, and it's a very funny book, but I often think Caitlin Moran has a tendency to lack intersectionality. Her feminism seems particularly white, middle class, and mainstream, which doesn't sit right with me considering it's women of colour and other women from minority groups that often suffer the most under patriarchy. Still, I do have her to thank for making me question my experiences to start with, and also my teacher, Miss Hegley, who was the first feminist teacher I ever had! (I ought to have been nicer to her, looking back.)
*Note: Sixth Form is the British equivalent of 12th grade in the United States.
Q: Feminism has becoming more mainstream — how do you feel about it? Do you think it's a positive, especially with the commercialization of feminism?
A: I think it's certainly a positive that more young people, especially young girls, are being exposed to the idea of feminism and aren't so afraid of that label. I'm seeing so many young women take up that name proudly, which is already a huge step forwards.
On the other hand, I do worry about the type of feminism that is going mainstream. It's pretty liberal. I think that feminism needs to really challenge patriarchy and gender roles to do good, and a lot of this mainstream stuff is pretty tame. I mean, yeah, it's wonderful that young women are finding strength in femininity and are feeling empowered and powerful by expressing themselves sexually. I totally support that, but I don't want feminism to become this glittery, pretty, attractive thing and for the actual power of it to be lost. It can be glittery and pretty and attractive, sure, but it's also got to challenge existing power structures and patriarchal ideas, which a lot of the time it's not doing. I'm very wary of commercialized feminism.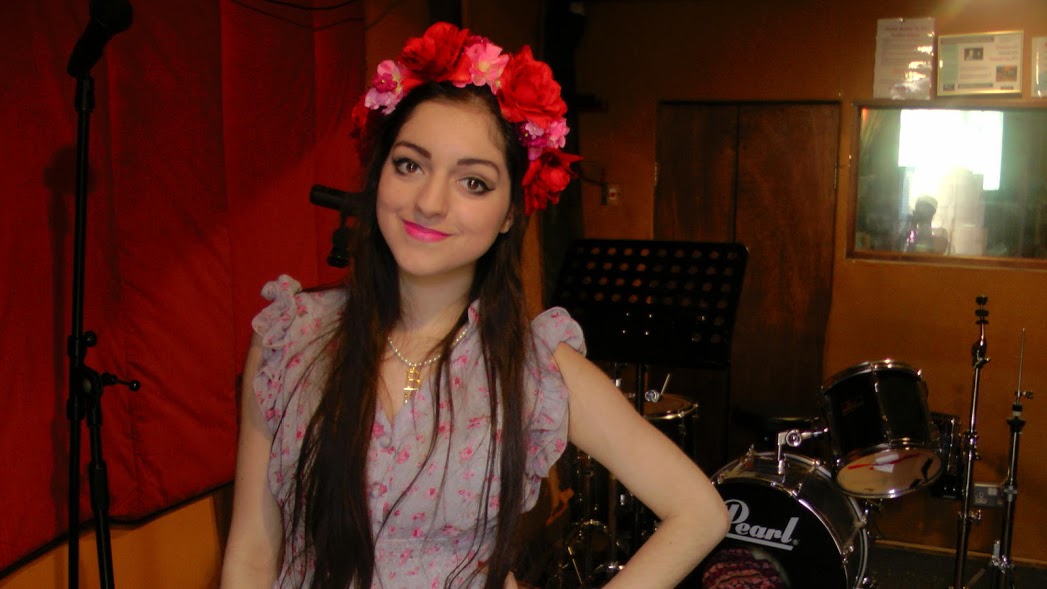 Q: In a lot of your videos, you critique really popular "fandoms," like Doctor Who and Game of Thrones, for their treatment of women. How do you balance being a fan of problematic things, and being a feminist?
A: Well if I refused to watch anything that was misogynistic then I'd be hard pressed to find a single show to enjoy. Even a lot of the more progressive stuff can perpetuate harmful ideas. That's just the place we're in right now. So many 'Feminist Shows' aren't really all that feminist at all. They just include a white woman that acts like a man, maybe punches people, shoots a gun, is flirty and of course absolutely gorgeous and appealing to the male gaze — which is somehow supposed to be empowering.
I'm one of those people that believes you can still appreciate something problematic, as long as you can recognise the problems in it. For example, I really loved Series 5 of Doctor Who with Matt Smith as the Doctor, but I found his later episodes to be really bad and very poor in terms of the representation of women (among other things). I can still call myself a fan of the Eleventh Doctor because of Matt Smith's portrayal, but I definitely see the problems with his run as the Doctor and as you know I don't hesitate to hold the writer of these episodes to account.
Q: What advice would you give to other people, if they're having trouble with reconciling fandom (or even just "real life") and feminism?
A: You'll have absorbed a lot of dangerous ideas and that's not your fault. The important thing is working to unlearn that stuff. Also we all mess up all the time. I think about twenty toxic things per day. We live in a society which is incredibly flawed. That's inevitable. Just make sure you challenge your thoughts and also make sure you can be critical of the things you enjoy. Being a fan of something doesn't mean having to love every little thing about it. I think it's more worthwhile and shows more critical thought to be able to spot the problems in your favourite shows and to challenge them.
Q: Borderline personality disorder, eating disorders, bisexuality, a lot of subjects aren't commonly discussed. Is there something (else) that society (or even feminism) doesn't talk about, that you'd want a more open discourse of?
A: Trans issues. Absolutely trans issues. Trans women of colour are at the most risk of abuse and murder in the LGBTQIAP+* community. At the moment when trans people speak about their lived experience a lot of us cis people pipe up accusing them of an odd concept called 'cisphobia' which is an absolute joke.
*Note: LGBTQIAP+ is an acronym that stands for Lesbian, Gay, Bisexual, Trans, Queer, Intersex, Asexual, Pansexual, and others who would be considered part of the non-heterosexual and non-cisgender community.
Q: You discuss all sorts of really intense things in your videos — like self-harm and mental health, to name a few. Where do you find the strength to talk about so many personal and difficult topics?
A: I do it because I know it will help other people. I'm already pretty hated by a lot of people online, so I haven't got anything to lose there. I know what it's like to be a mentally ill teenager and how lonely and scary it is. What's the point of fighting through those years if you don't use the platform you have to try and help out other people going through the same?
Also, when Anne Boleyn is your inspiration, the sky is the limit. She makes me incredibly brave.
Q: What about her is so inspiring?
A: Anne was intelligent, political, emotional, ambitious, and defied many of the patriarchal ideals of her time. She argued and debated theology with the King of England, which in a time where women were supposed to be demure, passive, and submissive, was a statement in itself. Anne and her brother George were a huge force in the reformation of the Catholic Church and the creation of the Church of England because they exposed the king to many reformist ideas, works, and literature.
For the time, you could say Anne was a very feminist sort of woman. Outspoken, individual, fiercely opinionated, and willing to sacrifice a great deal for her beliefs. Not to mention that Anne was considered unattractive by a great many at court, being the opposite of the Tudor ideal of pale skin, blue eyes, and a fuller figure. Anne was slim with notable dark eyes, dark hair, and with more olive toned skin. She captivated the king and the court with her wit, personality, and vivacious streak. She rose to heights that had previously been thought impossible for a woman of her position. What woman wouldn't be inspired by that?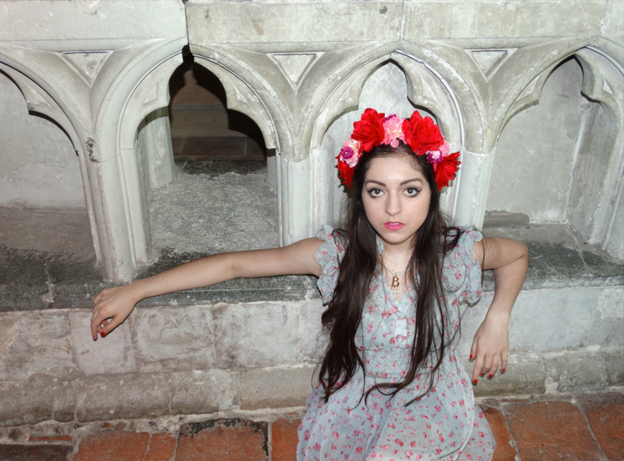 Q: What other women — fictional, historical, or contemporary — do you find inspirational?
A: Morgana Pendragon (BBC Merlin), Empress Matilda, Laverne Cox, M.I.A., Nicki Minaj.
Q: Who are your musical icons?
A: Florence Welch, Marina Diamandis, Lana Del Rey, Bat For Lashes (Natasha Khan), Kate Bush, Laura Marling, Oh Land, M.I.A.
Q: What inspires you to make music?
A: Pre Raphaelite art, British history, fictional characters, often my desire to be someone else which translates into taking on their persona in a song.
Q: How do you (plan) to incorporate feminist ideas into your music?
A: It's not a conscious move, it just happens naturally. I am a feminist, I am inspired by and find power in the stories and achievements of women. Therefore my music explores these subjects. It couldn't not.
Q: What was the last song you listened to?
A: Take Me To Church by Hozier. Or some Keaton Henson. (I'm currently mourning the potential loss of my favourite show, In The Flesh, and those are the songs I most associate with it. I'm wallowing in misery, basically.)
Q: Go-to comfort movie?
A: Billy Elliot/Mean Girls. (I know, I know, but I can't help it.)
Q: Cat, dog, fish, or hamster?
A: Cat! I've always wanted a little black cat.
Q: If you were a tumblr meme, which one would you be?
A: The Marvel Civil War meme. (Team Cap all the way).
Q: Where do you want to be next year?
A: I don't care where I am or what I'm doing so long as I'm happy.
Q: Where do you see feminism going in the future?
A: I see it going intersectional. It's important that we focus on race issues and trans issues. One of our biggest obstacles right now is feminists that won't accept trans women. That's a problem. We cis feminists need to sort that out, and fast. But I hope we're moving in the right direction. It's important that all women have a voice in feminism. If we're prioritizing the needs of straight white cis feminists at the expense of women from oppressed or minority groups then we're not all that different from the patriarchy.
You can follow Claudia and her work on her YouTube channels (personal and music), Tumblr, and Twitter.