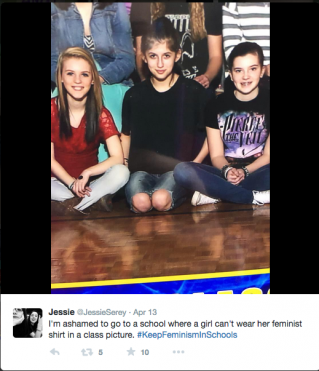 Is an eighth grader's shirt really enough to spark a global controversy? Apparently if that t-shirt contains the word "feminist."
On April 17th, 2015, MSNBC reported that Sophie Thomas, an eighth grader at Clermont Northeastern Middle School in Ohio, wore a black t-shirt that said 'Feminist' on the front.
She was placed in the front row for her school picture, and wore the shirt proudly – only to discover later that her Principal Kendra Young made the decision to black out the word "Feminist" completely in the final copy of the photos. When questioned, Young agreed that it did not violate the dress code, but argued that "some might find it offensive," and she wanted the photos to be "as little controversial as possible."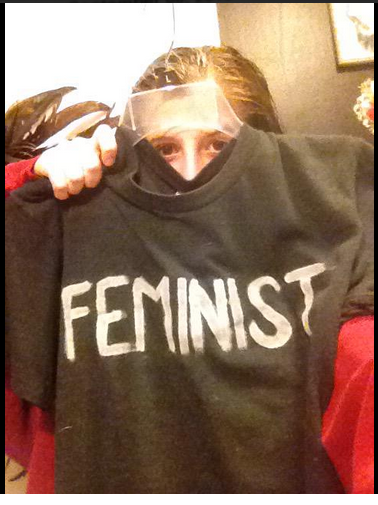 According to an interview with the local news channel Fox19, Thomas states that she was "insanely upset," and had "worn the shirt several other times to school (with no repercussions)." That day, however, she intentionally wore the Feminist shirt because of a prior discussion she'd had with a high school student who had made sexist comments.
Sophie's mother Christine Thomas has been in close contact with Women You Should Know,  which is a digital media platform which is a digital media platform and community that seeks to tell the stories of dynamic, innovative women who are bettering the world we live in. providing updates on the administration's reaction to the news coverage. Through this platform, we have followed the events unfolding in the wake of this incident. Christine Thomas testified that Mrs. Young apologized profusely to her, and seemed dumbfounded at first when asked to apologize directly to Sophie for the censorship, but did apologize to Sophie in her office. Young then proceeded to ask Sophie what she wanted from all of this, and Sophie's response was perfect:

        "I want everyone to realize that we NEED feminism. I want you to have someone come into the school and educate everyone about feminism. I want us to go to the news station together and show the people that we are working together the make this school and our community and better place for everyone. I don't think that's too much to ask."
Young is now working with Sophie to have someone come and speak at the school to talk about feminism – especially to clarify what it is and is not. This is a great step forward for most, but not all. Surprisingly, the attitude of Superintendent Ralph Shell has been bewildering. According to Thomas, Shell has been maintaining that the whole thing was a "joke," the parents were "in on it" and agreed to take it off because she "looked unflattering." Shell also maintains that the word "Feminist" wasn't the only thing blacked out in the photo; that inappropriate hand gestures from boys in the back row were also blurred out. But really, equating inappropriate hand gestures with feminism? We should all remember the true definition of feminism: full political, social, and economic equality of the sexes.

We applaud Sophie for speaking her truth and for prompting real change even beyond the local level. Sophie and her friends went on to launch the #ideservefreedomofexpression campaign, and people from all around the world sent in pictures of themselves wearing "Feminist" shirts. People are also still using the hashtag #keepfeminisminschools on Twitter; some wearing shirts that said "This is What a Feminist Looks Like." It's 2015, and everyone should be a feminist.