Eulogy for Teen Vogue Print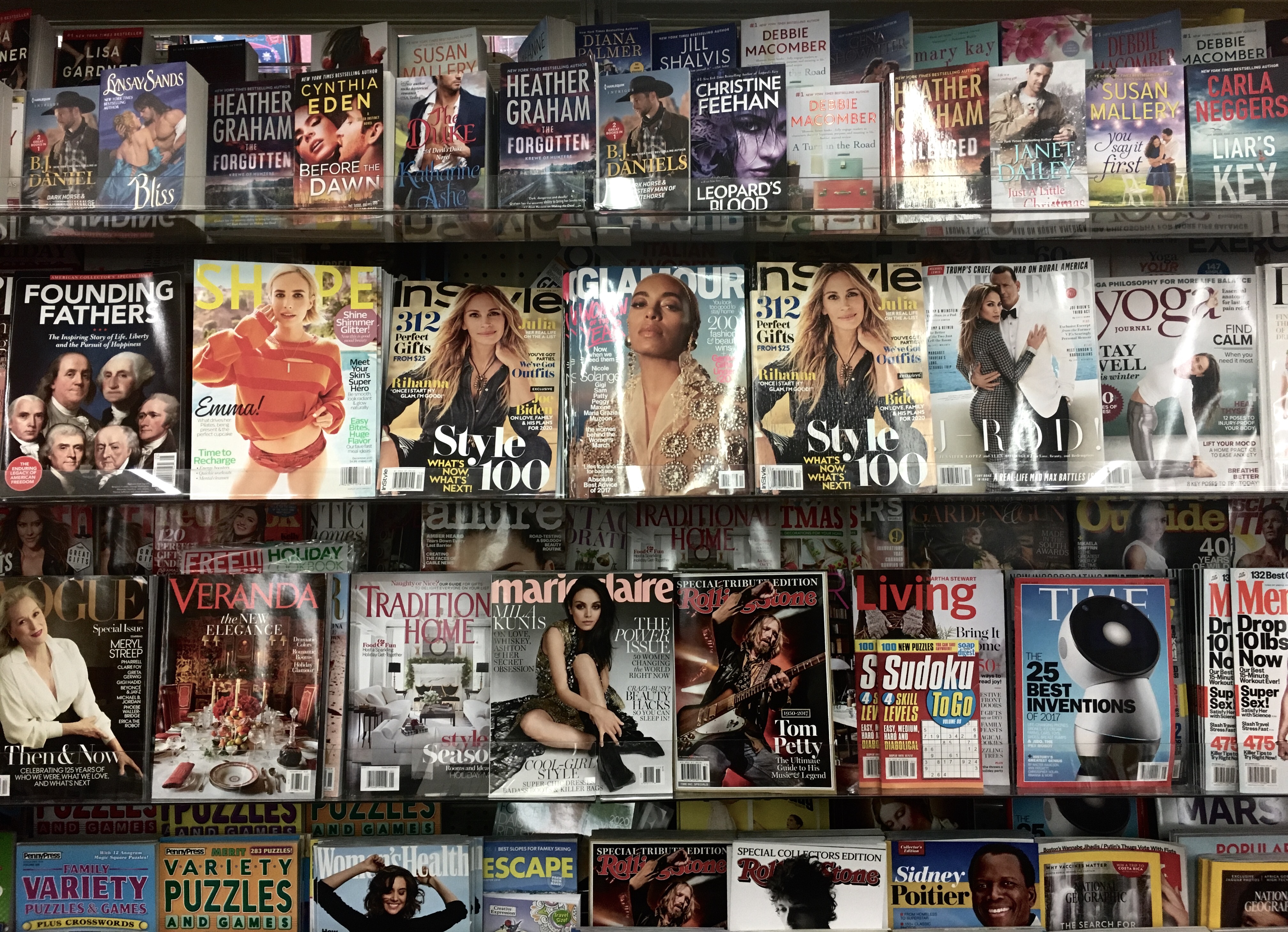 Photo by Gabriella Kamran
It was a favorite ritual: with one hand dipped in acetone, I'd flip through pages of Teen Vogue or Seventeen, skimming through articles about hair care products and the gender pay gap. I dried my nail polish with the battery-powered fans far longer than necessary, transfixed in the salon chair by skillfully written profiles of female politicians and infographics about period cramps.
I was 14, maybe 15, and these young women's magazines were introducing me to a principle I'd later treasure in the work of female writers like Joan Didion — the feminine and the powerful are not mutually exclusive. They showed me that women who like makeup can also write about important topics like school bullying or mental health in the age of social media, and that fashion can be a legitimate medium for art and self-expression. These moments in the nail salon, when I was thoroughly absorbed in the world of women's magazines, cultivated my two greatest passions of feminism and journalism.
By 2018, however, there will no longer be copies of Teen Vogue on newsstands or coffee tables in the United States. Condé Nast, the corporate king of magazine publishing, announced Nov. 2 that it will be shuttering Teen Vogue print, along with an 80-employee layoff and a reduction in yearly print issues for titles like GQ, Glamour and Allure.
I have long been aware of the revenue crisis in print journalism and the threat it poses to quality reporting, but the closure of small-town newspapers never quite hit home like the end of Teen Vogue print. The magazine will continue online, but the downsizing and spending cuts that will inevitably follow Condé Nast's announcement spell the end of Teen Vogue as we once knew it. It is also very possible that Teen Vogue is only the first canary in the women's magazine coal mine. What will be lost to the next generation of teenage girls and femmes denied an opportunity to see their concerns defended in a magazine's hardcopy pages?
The most disheartening thing about the end of Teen Vogue print is that it was just beginning to truly reflect the diversity in its readers' lives. Elaine Welteroth was named the magazine's editor-in-chief in 2017, becoming, at age 29, the youngest editor-in-chief of a Condé Nast publication and the second black woman to hold the position in the company's 107-year history.
As editor of Teen Vogue, Welteroth almost singlehandedly shifted the magazine's focus from fashion and women's health columns with a splash of current-events reporting to a progressive vanguard in the anti-Trump resistance. In addition to — and perhaps at times instead of — its regular beauty and lifestyle content, Welteroth's Teen Vogue 2.0 published articles such as "Donald Trump Is Gaslighting America" and "Why Having Police in Schools May Be a Risk For Undocumented Students." "News and Politics" is now the first tab on Teen Vogue's website, before "Entertainment" and "Beauty." In a world where male news anchors still think women's magazine writers should "stick to [writing about] thigh-high boots," Teen Vogue made a subversive statement by acknowledging the fact that young women want to read about politics.
Welteroth, too, grew up reading women's magazines, but she told the New York Times she was drawn to titles like Ebony and Essence that did a better job representing girls of color than mainstream titles like Seventeen (Teen Vogue entered the scene later, in 2004).
One of the greatest accomplishments of Welteroth's tenure is her push to feature women of color and queer folks prominently in the Teen Vogue's editorial pages. Cover models in 2017 include black celebrities Willow Smith, Solange and Zoe Kravitz. Singer Troye Sivan took the cover in February 2017 to discuss being gay in Trump's America, and the magazine regularly features interviews with transgender model and activist Hari Nef. Welteroth's Teen Vogue understands that while beauty is not everything, there is value in representing identities that have long been considered deviant in the world of fashion.
For all my feminist praise, the pre-Welteroth Teen Vogue of my teenage years portrayed a womanhood that was narrow, white and heavily commercialized. Its brand of women's empowerment fell in line with those of Ivanka Trump's ill-advised "Women Who Work" or Sheryl Sandberg's neoliberal "Lean In" — upward corporate mobility achieved through individual attitude adjustments, not collective social action or systematic change.
Commercialized femininity is a theme that runs to the genre's earliest roots — Godey's Lady's Book, the first widely-circulated women's magazine, was created in 1830 with the purpose of advocating a traditional, exclusive ideal of womanhood and advertising fashion to women of the growing leisure class. The expensive magazine was intentional in its partitioning of men's public lives from women's domestic realm, and in drawing a line between the wealthy middle and upper classes and working women. Godey's was in this sense the direct predecessor to women's magazines like Ladies' Home Journal and Good Housekeeping, which fed the housewife-industrial complex of the 1950s and 60s with a steady stream of products both domestic and cosmetic.
The early Teen Vogue and its contemporaries still target the professional middle class — columns about internship tips lay across from designer ads and recommendations for $70 skin cream, effectively excluding the magazines' low-income readerships.
Eurocentric representations of beauty were also a trend in Teen Vogue's early years, with little to no representation of non-white women or fat bodies. Heterocentrism also shaped the magazine's content regarding sex and relationships, erasing the spectrum of sexuality among readers.
Under Welteroth's leadership, countless teenagers were beginning to see their bodies and lives as legitimate subjects worthy of journalistic and artistic inquiry, just as I once did at the nail salon. There is an electricity in young people realizing that their identities can be beautiful, as well as powerful.
But can we blame Condé Nast for pulling that plug? The company's decisions are likely the result of a broader decline in magazine revenue as advertisers and readers turn from print to less-lucrative digital media. Still, Condé Nast will continue to publish not one, but two print magazines about golf. Despite my limited knowledge about the inner machinations of magazine publishing companies, I'd imagine that if Condé Nast chose cultural contribution over some corporate profit, it might have prioritized young progressive activism over 12 issues of Golf Digest.
Seventeen, the mantle now falls on you. Don't allow women's magazines to fall back into the routine commodification of narrow beauty ideals — not when there is so much at stake in women's lives. Teen Vogue leaves behind a legacy of representing the marginalized and recognizing young women's untapped political fire. Write fiercely and unapologetically for the thousands of teenagers who should know they are worthy of newsstands.