Feminist Theorist Thursdays: Assata Shakur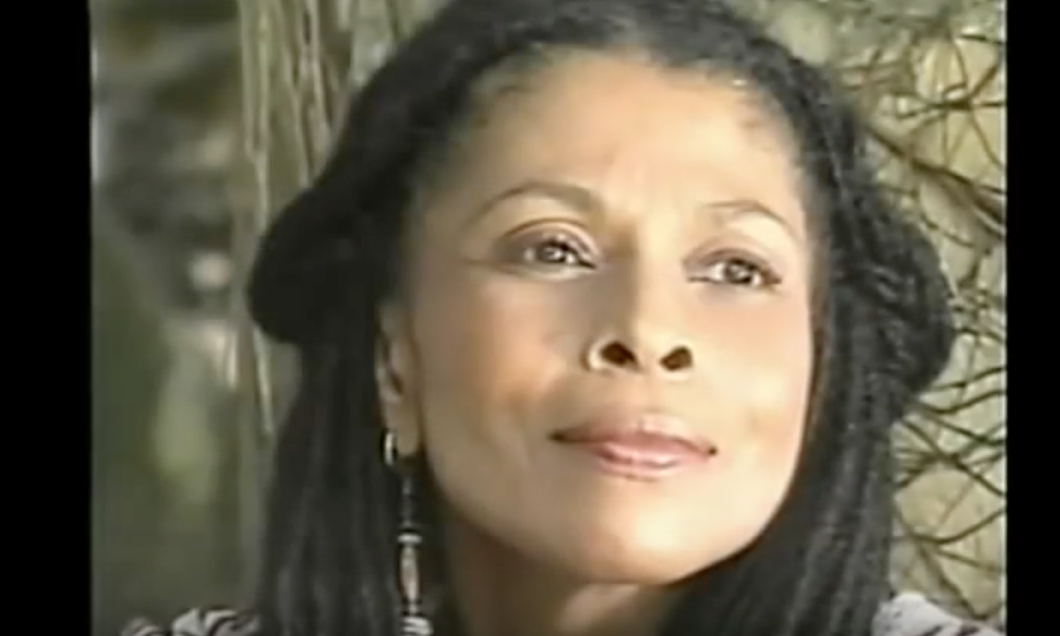 Image by D'ARC B'ODY RA'DI'O'ACTIVE via Youtube / CC BY 2.0
Note: This article refers to Assata Shakur by her first name, rather than her last, in ordinance with other articles written about Assata.
In 1973, Assata Shakur, member of the Black Panther Party and Black Liberation Army (BLA), and fellow BLA activist Zayd Malik Shakur were attacked and shot by law enforcement under COINTELPRO, the FBI program that targeted leftist and minority activist groups including Black radicals, socialists, and Puerto Ricans. The gunfire left Zayd Malik Shakur and a New Jersey state trooper dead, and Assata, shot twice with her hands up, became a political prisoner detained under brutal conditions. In 1974, she escaped from the maximum security wing of New Jersey's Clinton Correctional Facility for Women and fled to Cuba under political asylum.
Although she has been living in Cuba for the past 35 years, Assata's life work continues to be of the highest relevance and importance for political struggle today. A teacher, healer, freedom fighter, and aunt to hip hop legend Tupac Shakur, Assata has organized against the prison-industrial complex, police brutality, discriminatory education, poverty, addiction, and hunger in Black and Brown neighborhoods.
While she is often heralded for her anti-racist activism, Assata is also a fierce feminist and communist. In a 1998 open letter, she calls for an "end to capitalist exploitation," "the elimination of political repression," and for self-determination "for all oppressed in the United States." In "A Message to My Sistas," Assata claims that "Black people will never be free unless Black women participate in every aspect of the struggle." She urges Black women to distance themselves from "reactionary men" (or, in Assata's words, "If he's not about liberation, if he's not about struggle….then he ain't about nothing") and to organize to form a strong women's movement for liberation.
Today, Assata's demands have been taken up by activists that continue to fight battles against systemic oppression in underprivileged communities. The police brutality that forced Assata into exile increases its body count each day: more than 2,000 people were murdered in 2015 and 2016, including Sandra Bland and Alton Sterling, and more than 400 people have already been killed in 2017 alone. In May of 2013, 40 years after the prison escape, the FBI added Assata — the first and only woman added — to their Most Wanted Terrorist List. Assata's persecution, then and now, illuminates the state's continual violence against Black bodies.
Assata Shakur does not fit the mold of a traditional feminist theorist. In her autobiography, Assata writes that she knew from a young age that she would never be an intellectual, philosophizing about Blackness and womanhood in the academy's ivory tower "without knowing what the hell is going on in the streets." She argues that theory "without practice is just as incomplete as practice without theory. The two have to go together."
This problematic gap between theory and practice has long plagued approaches to resistance and activism. Assata's work embodies the solution that she prescribes — that of balance and synthesis. She has physically protected, fought for, and served her communities, but she has also conceived revolutionary ideas and writings that lay the groundwork for contemporary anti-racist thought and tactics.
Assata's struggle continues to inspire artists and activists today. Black Lives Matter founder Alicia Garza has written about the significance of Assata's message to the Black movement. A collective of radical Black women working in Chicago call themselves Assata's Daughters. The Hands Off Assata campaign brought together a diverse array of organizations and individuals in the fight for political justice. Cultural figures have publicly paid tribute to Assata either on social media or in their art, including political prisoner Mumia Abu-Jamal, hip hop artists like Common, Mos Def, Public Enemy, The Roots, Jay-Z, and Digital Underground, and NFL player Colin Kaepernick.
The legacy of Assata Shakur is the legacy of an unwavering belief in the struggle, fight, and movement for liberation, even in the face of total opposition, injustice, and violence. "i believe in the sweat of love/and the fire of truth," Assata writes in a poem, "i believe in living."