Feminist Theorist Thursdays: Denise Oliver-Velez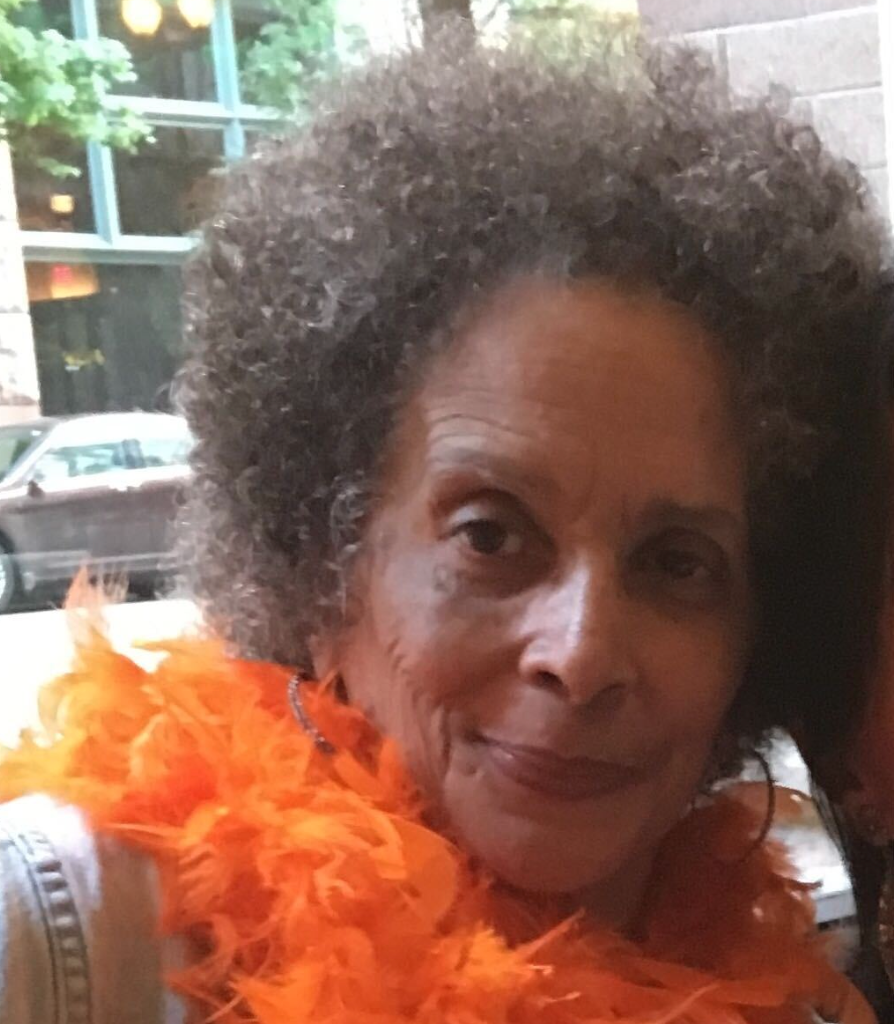 Image courtesy of Wikimedia Commons.
Image description: A recent photograph of Denise Oliver-Velez smiling in an orange scarf.
Born in Brooklyn in 1947, Denise Oliver-Velez is famously known for being a member of the Young Lords, a rebellious revolutionary civil rights organization mainly active during the 1960s and 1970s. Oliver-Velez's involvement in social movements and advocating for human rights started young. In her teen years, Oliver-Velez joined her local NAACP branch in Queens, participating in protests such as the 1963 blocking of the Rochdale Village construction to advocate for the hiring of Black workers.
Oliver-Velez's work as an activist continued throughout her college years at Howard University as she became part of the Student Non-Violent Coordinating Committee (SNCC) in 1965. Founded in response to sit-in protests led by students in 1960, the SNCC advocated for obtaining civil rights through direct nonviolent means. It is at this organization where Oliver-Velez credits her first understanding of revolutionary uprising through armed force. After joining the SNCC, Denise began to see that the passive form of protest was not for her, citing, "That made a lot of sense to me –– armed self-defense –– because my family was very militant coming out of slavery. My great-uncles and great-aunts were all armed and they all stood off the Klan. I grew up and was raised on those kinds of stories of strong men but also of strong women."
In her short time at Howard, she would encounter the Real Great Society (RGS), a street-gang-turned-Puerto-Rican-rights-advocacy group active in the Lower East Side of New York. This encounter with RGS in 1966 had a lasting impact on the 19-year-old Oliver-Velez. The RGS was the first activist group she reached out to after leaving Howard and moving back to New York. During Oliver-Velez's move back to New York, she was hired at The State University of New York at Old Westbury (SUNY Old Westbury). It was in this time that Oliver-Velez recounts her introduction to the Young Lords of Chicago, a part of the Rainbow Coalition founded by deputy chairman of the national Black Panther Party, Fred Hampton. Established by José "Cha Cha" Jiménez, the Young Lords centered on the uplifting of Puerto Ricans in America, with a specific focus on the Puerto Rican population in Chicago.
Alongside fellow activists Juan González and Felipe Luciano, Denise Oliver-Velez launched the New York division of the Young Lords Party. Oliver-Velez recounts her decision to become a full-time activist in an interview conducted by Black Women Radicals as follows: "Ultimately, it became a decision: do you stay in school and finish or do you throw yourself into becoming a Young Lord twenty-four hours a day… Of course, being who I was, it was like, 'Fuck school!' The next thing you know, I am in East Harlem again."
The Young Lords Party, modeled after the Black Panther Party, advocated for social change through direct action like the occupation of Lincoln Hospital. They promoted equitable healthcare for the community by setting garbage on fire in the streets in support of safer and cleaner streets in the Puerto Rican neighborhoods.
It was in this landscape that Oliver-Velez quickly rose, becoming one of the highest ranking women in the organization as the Minister of Economic Development.
Among Oliver-Velez's notable contributions to the Young Lords Party is her push to include women in the fight. Along with other Young Lord women activists like Iris Morales, Nydia Mercado, and Lulu Carreras, Oliver-Velez was able to seek change in a Latine society that devalued women's beliefs and ideologies under the heavy hand of machismo. Oliver-Velez describes their Sunday meetings excitedly: "…we were doing our own political education––we called it 'PE'. We were talking about historical women and their role in their various movements. It wasn't just Puerto Rican women-–we looked at Black women, women in Vietnam. We all looked up to a woman who used to come around and support us…" Through PE, or political education, Sunday meetings the women of the Young Lord Party explored the struggles of all women and heightened their exploration of feminist theories across racial lines.
It was through these meetings and camaraderie that women in Young Lords started to bring awareness to the injustices towards women they saw everyday, both in and out of the party. These women began with the injustices within the organization, changing the Young Lords' 13 point program and platform, which modeled the goals for the party. One of the original points was "We want equality for women. Machismo must be revolutionary… not oppressive." The women of the party disagreed with the idea that machismo could be utilized as a revolution tactic as Oliver-Velez describes in her interview with Black Women Radicals, "One that the program and platform of the organization be changed because said––and it was obviously written by a man [Laughs]––that 'machismo was revolutionary.' We were like, 'That is an oxymoron. Machismo will never be fucking revolutionary.' [Laughs] We had that changed."
In response, Oliver-Velez and other women in the organization banded together to write "Position Paper on Women," explaining the women of the party's positionality of topics like machismo, contraceptive rights, and gender roles. After the intervention of the women, the point changed to "We want equality for women. Down with machismo and male chauvinism." Simultaneously, in response to this point, Oliver-Velez and other women of the party developed and adopted the phrase "¡Abajo con el machismo!" ("Down with machismo!")
Although she positively shaped the legacy of the Young Lords Party, Oliver-Velez notes that she was still undermined in her position and faced sexism in the party.
Through her work, Denise Oliver-Velez became a household name in the activist community in New York. Furthering her work in activism, Oliver-Velez began her work in HIV/AIDS awareness and advocacy. She conducted several ethnographic studies on AIDS/HIV intervention in her time as an anthropology professor to bring awareness to the HIV/AIDS crisis within Puerto Rican neighborhoods, which was typically misreported or not reported on at all. These studies include proposals of mapping techniques to study HIV and AIDS within the neighborhoods, how legal status affects AIDS/HIV risk, and how imprisonment affects the spread of HIV/AIDS.
Now, at the age of 75, Denise Oliver-Velez still has activism running through her body. Oliver-Velez is a prominent writer for the Daily Kos and posts amazing articles from music to the beauty of Blackness. Additionally, she is very active on social media where she advocates against injustices in the U.S. and Puerto Rico. Oliver-Velez is continuing her fight for justice, motivated by the powerful women she worked with in her time as a Young Lord.
As she describes, "What I have learned from the Lords is something I have carried with me in every endeavor I was involved in after that time––whether it was building a community radio station where I became the first Black woman program director of a public radio station. I ensured we had women on staff running public affairs and doing whatever but also women who were doing the production and women who were engineering." From her work with the Young Lords and the connections she formed with fellow women within the organization, Denise Oliver-Velez recognizes the power of women. From running radio shows, to asserting our voice in a society built to silence us, there is nothing too big nor too small that we can not overcome together.