Feminist Year in Review: Top News Stories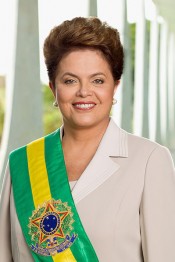 January
Dilma Rousseff was inagurated as the president of Brazil.
Switzerland elected Micheline Calmy-Rey as its president. This is Switzerland's fourth female president, a world record.
Roe v. Wade celebrated its 38th anniversary.
February
Italian women and supporting women worldwide held demonstrations protesting Italian Prime Minister Silvio Berlusconi's demeaning treatment of women and his numerous sex scandals. He resigned in November.
March
Peru appointed Rosario Fernández as its prime minister.
April
Kosovo elected Atifete Jahjaga as its president.
Kansas passed SB 36, a bill regulating clinics that provide abortions, making it more difficult for them to provide care.
May
Dominique Strauss-Khan, the managing director of the International Monetary Fund, resigned his position after being arrested for the sexual assault of a maid at a New York hotel. After his arrest, another woman came forward to testify that he had raped her in 2002. He was indicted by a grand jury for sexual assault, and will be on house arrest.
June
Indiana, Kansas, North Dakota, South Dakota and Texas enacted laws mandating counseling and waiting periods for women seeking abortions.
The Supreme Court ruled in favor of Walmart in a sex-discrimination case in which a group of female employees were suing because they alleged that the company preferentially hired and promoted men. This decision deprioritized women's rights in the workplace and equality of pay.
July
2011 marked the 6th FIFA Women's World Cup in Germany, compared to the 19 male FIFA tournaments to date. Japan beat the United States in the final match to win the trophy.
August
Thailand elected Yingluck Shinawatra as its prime minister.
September
Don't Ask, Don't Tell, the law that forced homosexuals in the military to stay closeted, was repealed. Formerly, gay or lesbian service members were barred from service, while now soldiers are free to share their sexual orientation.
Women's boxing was added to the 2012 London Olympics. In the 2008 Olympics, boxing was the only sport not offered to both genders.
October
The United Kingdom changed the 300 year-old succession law for royals. Previously, regardless of age, women had to yield the throne to their brothers. Under this law, women could only rule if there were no male heirs. In 2011, the UK voted to end this law, prioritizing order of birth for succession. Britain's Prime Minister David Cameron said "The idea that a younger son should become monarch instead of an elder daughter simply because he is a man… this way of thinking is at odds with the modern countries that we have become."
November
Mississippi voters rejected Initiative 26, which would have defined personhood as beginning at fertilization. This would have illegalized many forms of birth control, so its failure to pass ensures continued rights to access birth control.
December
During his campaign for the position as Republican candidate for President, Herman Cain was accused of sexual harassment by 4 different women, and a fifth woman claimed to have been in a 13-year extramarital affair with him. This caused him to suspend his campaign. Although these claims were given a lot of media coverage, it was frequently with the slant that these women were falsifying evidence.
Thousands of women gathered in Cairo to protest the abuse of female demonstrators at the hands of soldiers and demand the end of military rule.
Also check out our posts on
the notable deaths of 2011
and
the top women's protest
.