Fresh New Ways to Eat a Person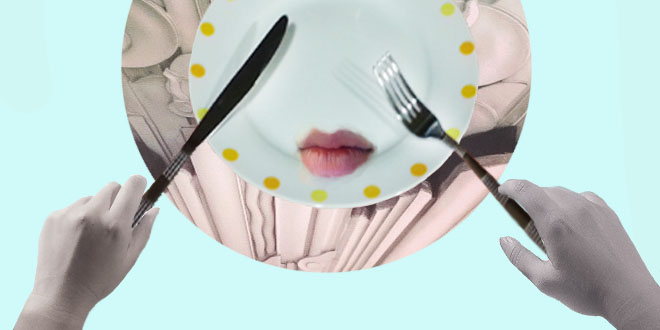 Image: Illustration by Katherene Quiteno.
Don't you love when someone decides to compare your skin color to a type of food? I just swoon at the sound of a man comparing my skin to sticky, glutinous caramel, or when he hollers at me from across the street, telling me he wants to "take a sip of my mocha!" And it's so great when makeup companies tell me that I have the skin tone of a "Voluptuous Vanilla Latte."
Don't you love being dehumanized into something meant for consumption? Being defined by something as crude as an animalistic craving?
Well, we at FEM love it too! But it's 2016, and we feel that it's time to up the game a little bit. Why does everybody insist on sticking to confectionaries and Starbucks drinks? Get creative! Broaden your horizons! If we're going to be compared to foods, I think we at least deserve to be compared to some elegant meals, don't you? To help you in this vocabulary-enhancing endeavor, we've created a compilation of more unique and diverse foods for you to compare our skin to. Trust us, your girl will never have felt sexier than she will when you throw these lines at her. You're welcome!
Fair:
Rice noodle

Mashed potatoes

Tuna fish

Fettucine alfredo

Inside of a Twinkie
Examples:
"I love your look! It reminds me of my grandma's tuna fish casserole."
"Your skin glistens like undercooked rice noodles, damn girl."
Medium:
Wheat

Mushroom soup

Hamburger Helper™ Beef Stroganoff
Examples:
"YES, LET ME HAVE THAT HAMBURGER HELPER™ BEEF STROGANOFF BODY, MMM."
Deep:
Roasted eggplant

Campbell's Chunky Beef Stew™

BBQ chicken wings
Examples:
"She had an alluring barbeque chicken wing complexion."
"Your Campbell's Chunky Beef Stew™ skin is so exotic! Where are you really from?"
You'll never run out of ways to describe the flavors of humanity. Now go disrespect someone with a little more originality and poise!