How to Be a Better Feminist Ally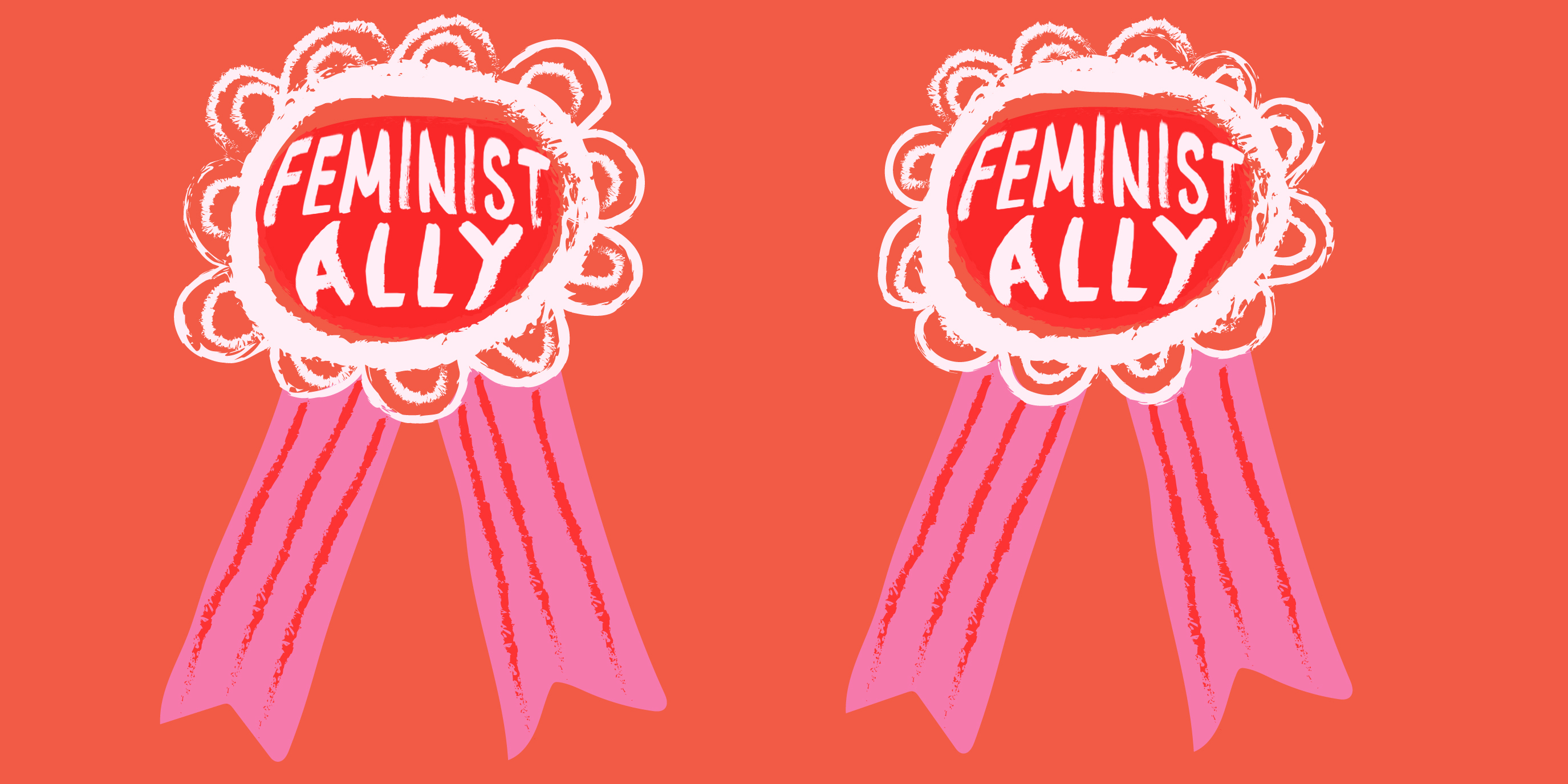 Illustration by Maddy Pease.
The world will tell you that it is done alone. The world will tell you to defer to the established powers that be. The world is wrong.
As an intersectional feminist ally (someone that does not identify as a woman but tries to navigate the world through a feminist lens), it is important to acknowledge and align with an alternate path. This path is one founded on honoring the individual as well as the equalization of the genders. It also honors intersections resulting from the dominant production of white imperialist patriarchy. The work of a feminist is challenging but ultimately rewarding and the goal of a feminist ally is to support that work whenever the situation calls for our contribution.
I semi-consciously came to feminism as a teenager when music became an obsession. Artists like PJ Harvey, Tori Amos, Björk, Erykah Badu, and Meshell Ndegeocello spoke to my experiences as an awkward black queer kid. It was not until a few years ago (thanks to Tumblr) that scholarly feminist texts impressed the imperative for the equality of the genders.
The funny thing is that these were not entirely new concepts to me, having grown up in a family where women hold everything together. The women in my family work, they earn degrees, they maintain the house, they care for their children, they love their partners, they create space for the sake of self-care. As Afro-Latina women, they navigate a road populated by many obstacles, but they still manage to produce so much love by way of a simple greeting.
More than anyone or anything else, the women in my family have molded the person writing this today. The least that can be done is to honor them and other women by offering insights into how to effectively support the work of intersectional feminism. Here are just a few suggestions for how to be a better intersectional feminist ally.
Understand that this is not about you, which is to say that your job as an ally is to act as a support system.

Feminism centers the experiences of persons who identify as women. Our society insidiously teaches us that the male experience should be center, at the expense of everyone else. This viewpoint is tremendously damaging, myopic and sexist. As an ally, we are here to use our privilege in constructive ways, ways that perpetuate equality, not hierarchy. Decentering your perspective is foundational to this building and collaboration.

Listen first. Do not talk first. Do not offer unsolicited opinions. Being an ally means the work of feminists comes first. It is work based on firsthand experience. A lot of what feminists are pushing back against comes from the masculine side of the gender spectrum, so it is best to keep an open ear. Doing so helps you to understand how the world works on a broader level while also expanding beyond your perspective, and arming one's self in the face of injustice.

If you see something, say something

. Correct injustices whenever they arise. When you are in a male-centered space and hear something misogynistic, challenge it. When you are in a public space and encounter sexism, racism, homophobia, or ableism, call it out. There is power in naming an injustice. It connects truth to power. It is an effective way to utilize male privilege and a way to weed out assholes from your social life.

Realize how complicated intersectional feminism is

. Yes, feminism rests on a woman-centered axis, but intersectional feminism also interacts with several other axes – namely those of race, religion, ability, and sexuality-simultaneously. Being mindful of these intersections helps foster productive community building.

Reading is essential. Several benchmark texts populate the canon of intersectional feminism. Some examples include "Ain't I a Woman," by bell hooks, "Black Feminist Thought," by Patricia Hill Collins, and

"Sister Outsider," by Audre Lorde.

However, there are many other essential works that interrogate systems of oppression

.
It is also important to remember that the work of being an ally is never finished. It is a constant learning and unlearning of ways in which to navigate the world. I find that the more I engage the world through a feminist lens, the more my awareness of gender-based injustice grows. It can feel like (and be) daunting work, but it is also work built on a foundation of change. This foundation provides hope and renews my motivation in helping to create a more equal world for all genders.