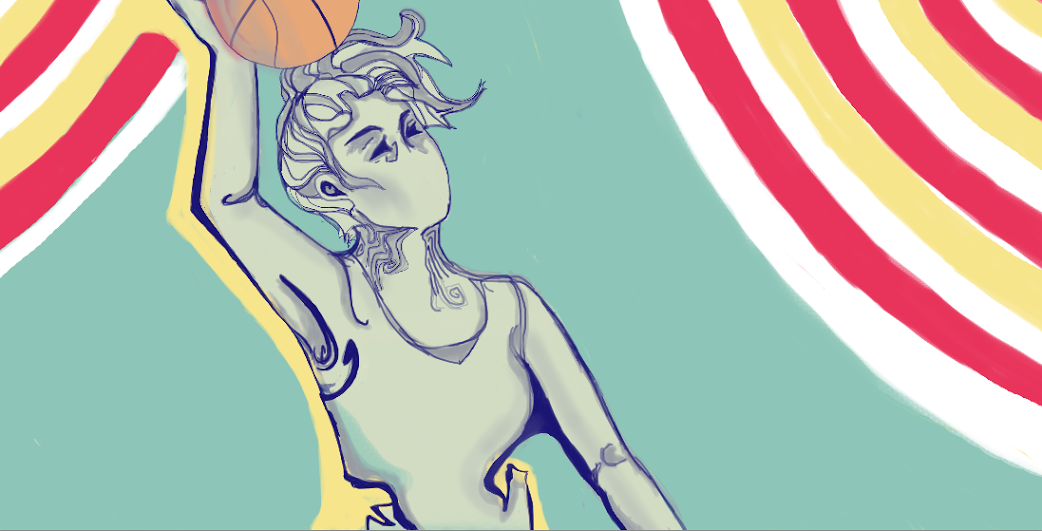 Mt. St Joseph's women's basketball team had their normal game scheduled on November 15th at Hiram College , a small college of about 1,300 students.
However, the scheduled arrangement quickly proved problematic for a game starkly different than any previous game, both in terms of urgency and record-breaking attendance. The game was then rescheduled to November 2nd for the 10,250 attendees who succeeded in scoring a ticket. Selling as quickly as the recent Cavs/Pacers NBA exhibition game at Cintas Center, tickets were completely sold out within 30 minutes of becoming available to the public.
What made this game so different? The answer is a brave young woman named Lauren Hill.
Lauren Hill, a 19-year-old Mt. St Joseph's sophomore basketball player participated her last game this November 2nd.
"I never thought I would play on a college court, put my feet on the floor and feel the vibration of the crowd," Lauren said after the game, which Mt. St Joseph's won 66-55. "This game has been amazing, and everything that happened today was amazing. This is a really good day."
Lauren has been battling Diffuse Intrinsic Pontine Glioma (DIPG), an inoperable brain cancer for the past year and has been told by medical professions that she will not live past December of 2014.
After receiving her diagnosis, Lauren immediately began to reach out to individuals who shared her disease in her local area. She was profoundly touched by a 24-year-old named Brendan whom she befriended, describing Brendan as someone who "lived in the moment." Brendan gave her not only a sense of humor about their unique condition but additionally an important push to start living her life to the fullest, Lauren explained "It's almost like you've been sleeping all your life and someone says, 'Hey, wake up'". Unfortunately Brendan passed in March of this year, less than a year after his initial diagnosis.
Instead of letting depression completely take ahold of her after the loss of her friend, Lauren has fiercely fought against her cancer with not only medication but her most important source of inspiration- God. She believes her positivity and strength during this period come from God and uses her illness as a source of power to inspire those around her. As she has eloquently stated, "we're all here to teach, and be taught".
Lauren hopes that her publicity brings awareness and benefits others who suffer from her rare form of cancer. Emulating the ALS Ice Bucket challenge, she has set up her own Layups for Lauren Challenge, which dares participants to spin around five times and shoot with their non-dominant hand or instead donate $10 to cancer research. These required conditions simulate Lauren's dizziness which requires her to move her whole upper body instead of solely her head and play with her left side as the cancer weakened her right side so severely .
Her challenge has been honored by many prestigious members of the basketball community including Becky Hammon, the first full-time paid female assistant coach in the NBA. The Delhi Township Board of Trustees has officially declared November 2nd as "Lauren Hill Day," preserving her legacy locally.
Lauren's desire is to be remembered for her tremendous contributions to the DIPG community and I believe that she will. As someone who lost their mother to brain cancer at the age of 19, this topic is very personal to me and I cannot even imagine what it would have been like to be the one with a terminal diagnosis. It is very rare to find someone as selfless as Lauren, who has challenged us to do more than just difficult lay ups. Lauren's courage has challenged us all to be passionate and caring individuals in the world we live in and to push forward to aid in the causes that we are invested in.
Contributions can be made to Lauren Hill's cause here