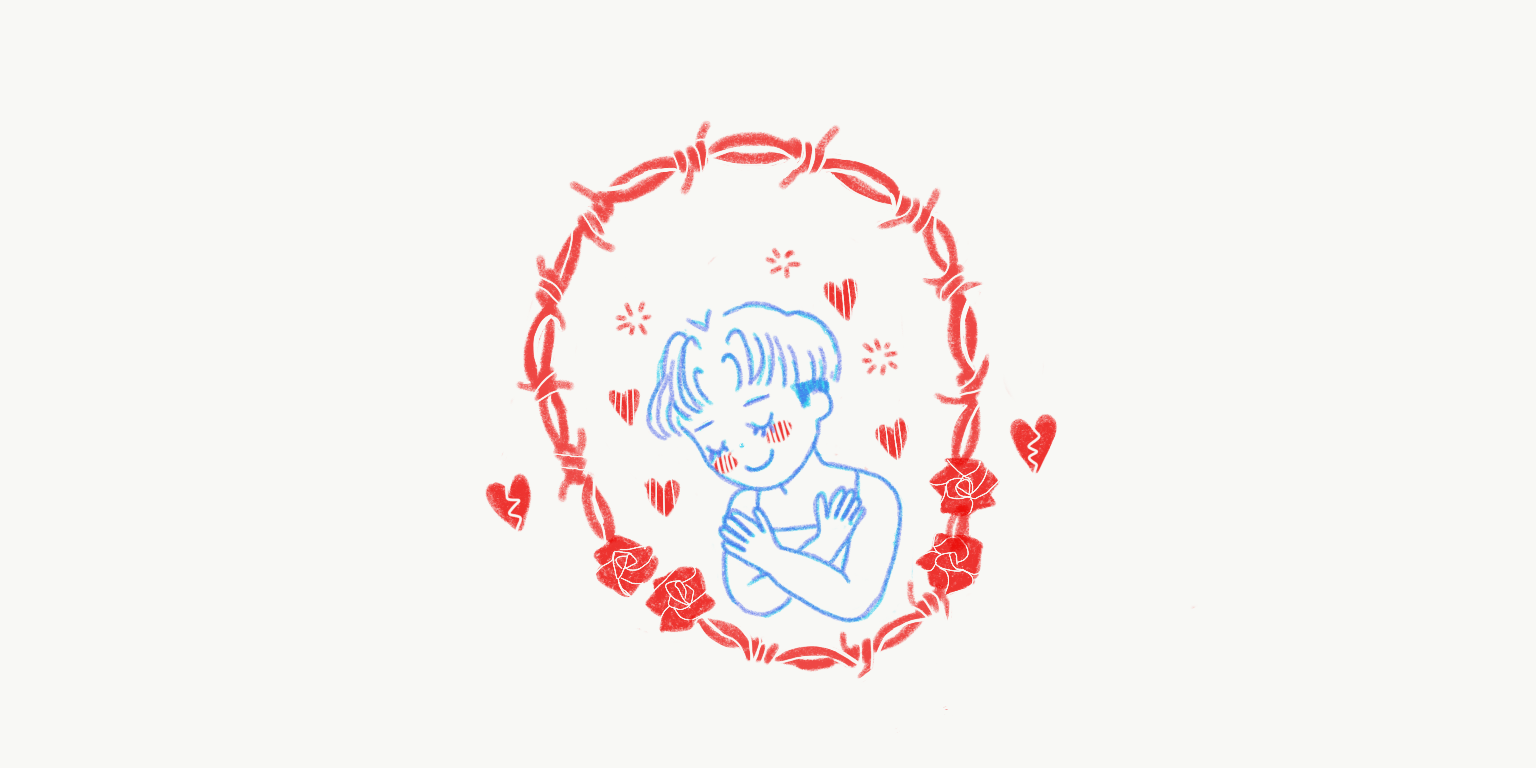 Illustration by Tina Duong.
Early this year, as an act of self-love and preservation, I decided to end my relationship with my mother. In the 14 years since my parents divorced I have known little of what it means to come from a safe and supportive home environment. The decision had been a long time coming.
From ages 6 to 13, I traveled back and forth between my parents' residences. While my father's house was always quiet and peaceful, my mother's was defined by instability. My mother moved apartments five or six times before I left for college, making it difficult for my siblings and I to ever feel settled. Some days we had a car and others we weren't sure we'd make it to school. Some nights we had rooms to sleep in and beds that were our own. Sometimes there was food in the fridge. Other times not.
The father of my three younger half-brothers created the biggest rift between me and my mother. Stuart, who was homeless and unemployed, latched onto my mother like a parasite and convinced her that he was everything my father was not. This is the one point on which Stuart and I agree.
From then on my mother was trapped in the cycle that most people have heard of regarding emotionally abusive relationships. Stuart oscillated between the gift-bearing caretaker of the family and a hot-headed, narcissistic tyrant on a daily basis. We saw less and less of the former persona as years passed.
I do not blame my mother for being the victim of an emotionally and verbally abusive relationship. However, I do resent the many promises she made to leave him. I resent that she defended him when he lied, stole money from her, abandoned the family for days on end, took the locks off my bedroom door, and trashed and sold my car for parts. More than anything, I resent that my brothers and I were made victims too.
Needless to say, I won't be observing Mother's Day this year. Or, I should say, I won't be observing Mother's Day the way I have in years past.
Like many others, I do not have a close, positive relationship with my mother that I feel is appropriate to celebrate. Mother's Day, by promoting the concept of an "ideal" family, mother, and mother-child relationship, excludes and alienates families like mine that don't fit that ideal. As a result, it and similar holidays can bring up painful or traumatic feelings and memories for people from "nontraditional" family backgrounds. These include single-parent households, families divided by the U.S. prison and immigration systems, children in or who grew up in group homes or foster care, and others. Mother's Day can also be triggering for individuals who are unable to have children.
The extensive commercialization of Mother's Day only exacerbates the sense of pain and dread some people feel leading up to the date. As soon as Easter Sunday is over, stores fill with flowers, chocolates, and cards that scream things like, "I love you, Mom!" or "A mother's love is forever." For many people whose relationships with their mothers are characterized by neglect or emotional manipulation, these are simply untrue. But commercials and consumer items that espouse these ideals make those of us without "traditional" mother-child relationships feel unloved and unwanted all over again.
Even for mothers and families who do enjoy healthy relationships with each other, but who might be unable to celebrate in ways the media deems appropriate, Mother's Day can also be a large source of stress, guilt, or shame. Not everyone can afford to take their mother out to brunch or the spa, or to buy her flowers, jewelry, and other expensive gifts. This rings especially true for households in which the financial burden of celebrating Mother's Day falls to the children, such as single-parent households or families where parents share custody of the children. Yet the media teaches that there is a "correct" way to honor mothers, and it involves fronting a ton of cash.
When I say I won't be celebrating Mother's Day, I mean in the traditional or commercialized sense. In the past, the holiday has been used as a launch point for feminist movements, including a 1968 march for underprivileged women and children hosted by Coretta Scott King. Today, women's groups like Mothers Out Front use the holiday as a day of action to promote clean energy, healthy communities, and other causes related to the current women's movement in the U.S.
The holiday was actually inspired by women's groups called Mother's Day work clubs in the 1850s, which first sought to improve infant mortality rates and tended to wounded soldiers in the U.S. Civil War. Later on, these organizers called for women to assume a more active political role in promoting peace in the U.S., and eventually established the first Mother's Day in 1908. The official founder of the holiday, Anna Jarvis, came to regret that she ever started the tradition. Mother's Day had become so commercialized and so untrue to its roots that Jarvis spent the rest of her life fighting to have it abolished.
This year, I will be spending Mother's Day celebrating the women and other people in my life who have shown me the love, care, and support that I did not always receive at home. For me, this includes my partner, father, and close friends, who remind me that I am, in fact, deserving of compassion and respect. It also includes my boss, my women professors, and my women colleagues, who continually offer me strength and inspiration. Beyond that, I hope also to honor myself and the commitment I've made to practicing self-kindness.
For those of us who have felt the shame or distress associated with the lack of a "normal" mother-child relationship, it serves to remember that there are others who share our experience and who are willing to participate in the process of healing. May our every Mother's Day commemorate these people and the women in our lives who continue to uplift us.