Rape is not a violent crime.
Well, the Limestone County Circuit Court in Alabama isn't treating it as one, considering it ruled last week that a man convicted of rape would not spend any time in prison. Instead, he will spend two years in a corrections program for "nonviolent, low-level offenders" and three years on probation.
Unlike other rape cases that have made it to the national news circuit, this case does not involve the supposed legal "gray-area" of sexual consent. This man was convicted of three charges of rape.  Still, he is not being punished.
The first problem with this ruling is that it violates what we should understand, as a culture, about rape and the definition of violence.
Rape is a breach of an individual's bodily autonomy and integrity. It is inherently violent.
The second problem is less abstract. A survivor of rape now has to contend with the fact that her rapist walks free and can seek retaliation at any time.
Courtney Andrews has had to move across the state to get away from her rapist, and she is concerned for her family now that he will not be sentenced to time in prison. It's possible that Andrews' choice to press charges will make him more likely to retaliate, so this ruling may have the effect of punishing the survivor for being brave enough to report her rape.
Andrews told the The News Courier:

"Now that he is free, I will absolutely not come home."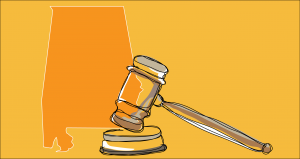 Immediately after the ruling, the District Attorney brought up the guidelines of the Code of Alabama, which allows a judge to split a sentence between jail time, probation time, and time in a corrections program, but the judge did not alter the decision.
Whether or not a sentencing split like this is legal according to the code is somewhat murky. What is clear is that first degree rape convictions have a sentencing range from 10 to 99 years.
Since this story broke, the DA has filed a motion seeking a more punitive sentencing, asserting that the current sentence is illegal. The DA has also petitioned the Alabama Criminal Court of Appeals, arguing that rape is a "violent offense" and should be treated as such.
Meanwhile, Andrews must live with being unsafe while her rapist is allowed to go back home to his wife and three children. Of her feeling about the ruling, she said,
"He's still not paying for any of it. When does he have to pay?"

"I've been paying since I was 13 years old."
In cases of rape, the purpose of imprisonment is straightforward: It stops the rapist from hurting the survivor, or their family, or anyone else, again. As the ruling stands, it does just the opposite for Andrews.