The Night Witches were a group of female Russian pilots who dropped bombs on Nazi soldiers in World War II.
The world's first female combat pilots, who fought on the Eastern Front.

A general who saw them said, "Are these little girlies going to fight at the front?  They have nothing to do there!"

They were called Nachthexen, or Night Witches, by the Germans, who thought their low-flying planes sounded like a witch's broomstick.  They took on the title with pride.

The Germans feared the Night Witches so much, that any German soldier who shot down one of them was automatically given an Iron Cross.

Nadezhda Popova, one of the squad's commanders, told the BBC that "The Germans made up stories, they spread a rumor that we had been injected with some unknown chemicals that enabled us to see so clearly at night."

They flew in small open-cockpit planes called Polikarpov Po-2 biplanes that were  made of plywood and canvas and were usually used only for training and crop-dusting.

They decorated their planes with drawings of flowers.

To drop their bombs successfully and quietly at night, they would idle their engines as they neared the target to reduce sound, glide as they dropped a bomb, and then fly away.

The Night Witches flew without parachutes or radar, and dropped bombs, facing frostbite while "sail[ing] through a wall of enemy fire," at least eight times a night.

Collectively, they flew 30,000 missions in four years.

Nadezhda Popova once flew 18 missions in one night, with a total of 852 missions.  She died in 2013 at the age of 91.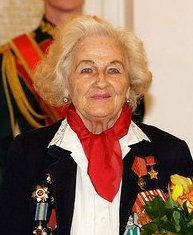 According to the Washington Post, Popova told her navigator, "Katya, my dear, we will live long" after finding 42 bullet holes in their plane.

The Night Witches, along with the women of the other 2 all-female regiments in World War II, were given pistols that they used to commit suicide, rather than allow themselves to be captured by the Nazis.

At least 30 of the Night Witches, including Popova, were deemed Heroes of the Soviet Union, the USSR's highest honor