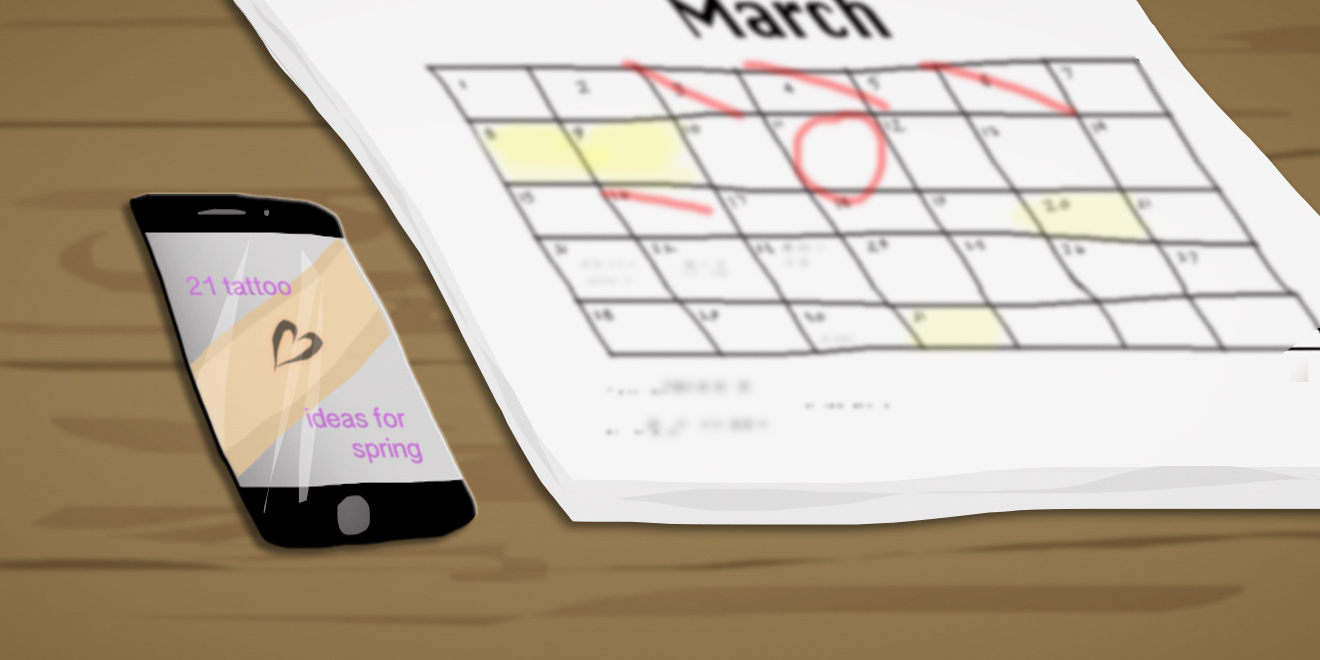 Design by Emma Lehman
I should really book a therapy appointment.
I can't keep waking up in the middle of the night, I'm exhausted.
But is talking about it really going to help?

Fuck man.

I should get another tattoo.
Not because I need therapy.
This is an entirely new train of thought.
Obviously.

Okay, but what do I want?

Damn.
It's February 20.
Too close to March and I need to pay rent.
….but maybe I could swing it if I got a small one, right? I really wish I did my own tattoos.
But I guess that would be the equivalent of cutting my own bangs and that screams
I NEED THERAPY
and I definitely do not need therapy.

Maybe I want some plants.
Does that match with my theme?
Theme? Who the fuck has a theme to their tattoos?

No, wait‒
maybe I'm valid.
People have certain styles they like, that's basically a theme.

Is there such a thing as too many plants? I already have the flowers on my waist and the flowers on my arm….where do I wanna put it? Is it plants now, is that what I'm doin—

A text! Ooohhh.

Fuck.

I forgot I made those plans.

Why did I make those plans?

They're going to hate me if I cancel.
Fuck. Okay it's fine, just be honest and let them know you're just having a rough day and you're feeling a little introverted and if they're a good friend, they'll understand.

Or…..they'll ask me if I wanna talk about it.

Fuck.

I'll text them back later, it's fine.

Okay, back to what I was doing: tattoos.
Maybe if I figure out where I want it, I can try to think of something that looks good there. I think I want another piece on my arm.

Am I really typing 'plant tattoos' into Pinterest right now? I hate myself.

Okay, that wasn't helpful. Maybe Tumblr?
Actually, let me just scroll through my camera roll and see if I have any photos of plants that I like.

Holy shit it's been an hour fuck how did that happen!
Okay, It's fine.
I'm fine. Things are fine.

I have to actually start doing work now. It's fine. Let's go through the To-Do list. Knock out the easy stuff first.

Laundry
Assignment for 108
Send email to lab
Book therapy appointment
Fuck.

Okay, five more minutes of looking at tattoo designs and then I'll start.