FEM's Guide to Valentine's Day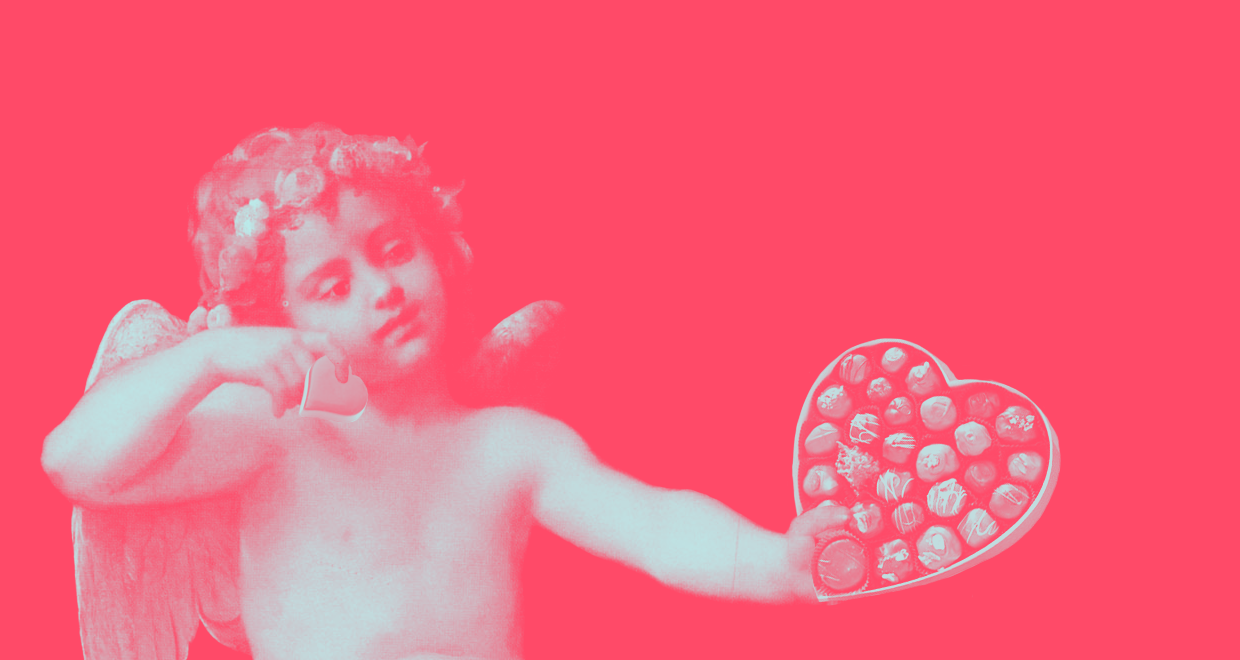 Depending on your views on Valentine's Day, you're either excited for it, dreading it, or completely ambivalent about it. Regardless of whether you have a significant other (or others) to spend it with, there are a few ways to make the most out of the holiday dedicated to love and the relationships in your life.
This list is not specific to any gender, sexuality, romantic preference, or relationship status. Instead of focusing on "what your man really wants for Valentine's Day," like so many other lists out right now, this is focused on indulging the people you care for in whatever way you care for them.
Chocolate:
Not everyone is into chocolate of course, but for those who are, there are a lot of great chocolate brands out there that participate in Fair Trade and won't cost you a fortune.
Taza organic chocolates source their cacao from the Dominican Republic, Bolivia, and Belize and practice "ethical cacao sourcing," meaning they "maintain direct relationships with [their] cacao farmers and pay a premium above the Fair Trade price for their cacao."
And their eight-piece sampler box is packed with flavors such as vanilla bean, orange, chipotle chile, and of course, cacao puro, and will only run you about $15.00.
Flowers:
If you're feeling old-school and want to give someone (or yourself!) flowers for Valentine's Day, there are options available to ensure that you get the prettiest flowers while not causing as much harm to the environment as a typical bouquet does. The Bouqs is a great, environmentally friendly option that provides "living wages, childcare, healthcare, and adult education" in the communities they source their flowers from. The prices are even competitive with normal flower shops with a bouquet of roses costing around $50.00.
Playlists/Mix CDs
Sometimes the sweetest way to show someone some love or to practice some self-love is to make a bomb playlist. And if you're planning on having a Galentine's Day party, we have already hooked you up with some great tunes.
Bath + Beauty products
Whether you want to use it on your significant other(s) or yourself or gift it to a friend, everyone can appreciate some super luxurious body butter or bath bombs from Lush.
Many of their products are vegan and contain super fresh ingredients without preservatives, none are tested on animals, and Lush consistently engages in ethical fair-wage practices.
Even if their products weren't so amazing (which they definitely are, I can assure you), you'd probably only ever want to shop there again. Their "Buffy" body butter works great as a scrub and is packed with cocoa and shea butter and natural exfoliators for tough skin and will only run you $7.00 for a 3.3 oz bar. If you're looking to feel make a bath sparkle, fizz, and smell like citrus, the "Dragon's Egg" bath bomb is only $6.25 and will leave you feeling like a Khaleesi.
Cards
No matter your relationship status, there are endless options for Valentine's Day cards out there. Hallmark recently released a really cute commercial featuring a real lesbian couple promoting different ways to express your love for your significant other(s). And if you're looking for something casual that promotes positive consent this Valentine's Day, UCLA's 7000 in Solidarity released some hilarious Consent Grams. If you're a UCLA student, you can buy one for only $1 and all the proceeds go to the Santa Monica Rape Treatment Center.
Regardless of how you spend your day, it's good to keep in mind all the positive relationships we have in our lives and to put a little extra love and attention towards them.